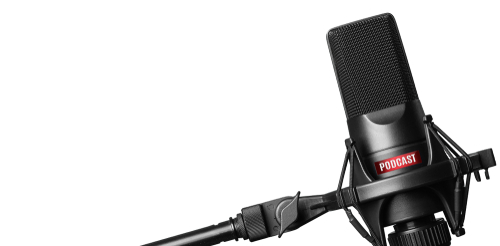 Working towards completing one of our online Master's in English degrees? Are you studying to become a screenwriter? Want to immerse yourself in the world of screenwriting to gain insight and tips from working professionals? Check out this list of some of our favorite screenwriting podcasts. Whether you're polishing up your own screenplay for a school assignment, trying to pass the time between classes, or trying to find inspiration, we hope that you'll enjoy these podcasts while you work towards completing your Master's in English or Creative Writing.
Featured Programs
Some of our Favorite Screenwriting Podcasts
Scriptnotes – Hosted by screenwriters John August and Craig Mazin, the Scriptnotes podcasts is a great resource for aspiring screenwriters.  Listen as John and Craig discuss all things screenwriting!  They've covered topics including breaking a story, writing for television, working with script doctors to fix scripts and much more.  They frequently have guests on the podcast to discuss their work including Damon Lindelof, Derek Haas, and many more.
The Q&A With Jeff Goldsmith – Tune in weekly as Jeff Goldsmith interviews some of the biggest screenwriters about Hollywood's hottest movies.  This is a great podcast for people who would like to go in-depth about a particular movie and here directly from the screenwriter themselves on what it was like to write the movie and the different decisions and choices made during the writing of the script.
The Treatment with Elvis Mitchell – American film critic, Elvis Mitchell, hosts The Treatment with Elvis Mitchell.  Produced by KCRW Radio, The Treatment with Elvis Mitchell is released every Wednesday for listeners.  Elvis Mitchell sits down with some of Hollywood's biggest names to discuss their current projects and work to really dive deep into their creative process in order to gain a deeper understanding of the way some of these projects were created.
Draft-Zero – Hosted by two emerging screenwriters – Chas Fisher and Stuart Willis – Draft-Zero podcast releases once a month and features in-depth discussions about movie releases in order to learn specific screenwriting lessons.  Tackling major topics like theme, and point of view, exposition, and more, Draft-Zero looks at what works and what doesn't work in modern-day movie releases.
BAFTA Screenwriters' Lectures – Produced by the British Academy of Film and Television Arts, the Screenwriters' Lectures is a podcast series in which some of the biggest names in screenwriting discuss their process and the way they approach screenwriting.  This is a great podcast for those wanting to hear directly from the source about the ways they approach screenwriting.
These are just some of our favorite screenwriting podcasts. We hope that the podcasts on this list will help educate and entertain you on your pursuit towards a Master's in English or Creative Writing.