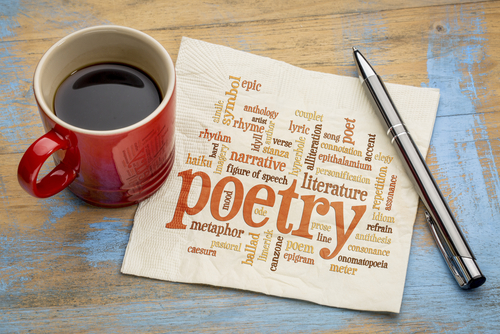 Studying one of our top top online Bachelor's of English degrees because you love poetry? Working towards completing one of our best Master's degrees in Creative Writing so you can begin a career in writing poetry? Whether your an aspiring poet or just a fan of poetry, we've compiled a list of some of our favorite podcasts about poetry. With so much great poetry being produced today, we hope that this list of podcasts about poetry will help guide listeners to new and exciting poetry.
Our Favorite Podcasts for Poets
The Poetry Break – Created by Poet Laureate Marc Harshman and West Virginia Public Broadcasting, Poetry Break is a monthly podcast dedicated to poetry.  Each month a new episode of The Poetry Break is released featuring an expertly curated selection of new poetry as well as commentary about that month's poems.  Recent episodes include work by William Bronk, Steve Scafidi, Linda Pastan, and more.
Featured Programs
The New Yorker: Poetry – Hosted by the New Yorker's Paul Muldoon, The New Yorker: Poetry podcast is a great resource for poetry enthusiasts and aspiring poets.  Released on a monthly basis, Paul Muldoon organizes a collection of poem readings, group discussions, and interviews for listeners.
Poem Off the Shelf – Produced by the Poetry Foundation, Poem Off the Shelf focuses on works of contemporary American Poetry.  Tune in twice a month to a collection of readings, interviews with poetry critics, short documentaries about poetry, and much more.
KUSP's Poetry Show – Produced by Central Coastal Radio, KUSP's Poetry Show is a collection of featured poem readings as well as interviews with prolific poets.  This podcast also features an extensive back catalog featuring interviews with great poets.
Poem of the Day – Just as the name suggests, Poem of the Day delivers a poem reading to your podcast application every day.  Listen in as poets and actors bring to life both classic and contemporary poems for this podcast's listenership.  This podcast is also produced by The Poetry Foundation.
New Books in Poetry – Part of the New Books Network, New Books in Poetry is a weekly podcast that sits down with the writer's of new poetry books to interview them about their latest work.  Students can gain valuable insight into the creative process of any given poet through listening to this podcast.
Talk About Poetry – Featuring a looser, unscripted format, Talk About Poetry podcast is released on a monthly basis featuring a roundtable discussion with a variety of different working poets.  Listen as they share work with one another as well as critique and discuss each other's work.
Poetry Magazine Podcast – Companion to the popular Poetry Magazine, listen as the editors of the magazine sit down to discuss the latest issue of the magazine including the different poets and poems features, as well as discuss different issues and questions from their readership.
This is just a collection of some of our favorite poetry podcasts. We hope that you will find these podcasts to not only be entertaining, but also informative as you work on your Bachelor's of English / Creative Writing and work towards becoming a working poet.