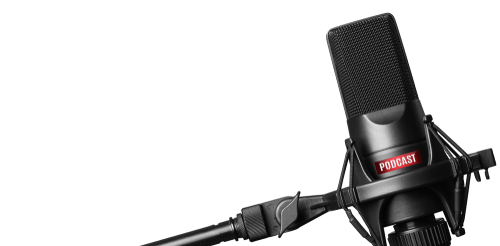 Featured Programs
Listening to History
With the explosion of mobile technology, podcasts audiences have grown since that first podcast back in 2004. With this list of best history podcasts, you can take your education and personal knowledge growth with you wherever you go. We hope that these podcasts will keep you entertained while also teaching you about historical events that you may not have covered in your more traditional studies. Check one of these best historical podcasts out today.
30 for 30 Podcasts offers delightful storytelling that appeals to both sports devotees and general interest listeners. This podcast goes beyond the ordinary perspective on sports, exploring how sports, competition and adventure affect people's lives and the world. Full of extraordinary stories about NBA activism, NFL video games, Olympic failure, polar exploration, Bikram yoga and more, this highly acclaimed podcast will be sure to pique your interest as you search for great history podcasts. 
Backstory is top-ranked among best historical podcasts and hosted by distinguished U.S. historians. Every episode affords listeners a new perspective on a subject, giving additional sides to the story. Guest historians and audience callers add to the lively conversation in great history podcasts. Although weekly production ended in June 2020, check out this treasure trove of history that is a lot more than facts. It sheds light on how our past has molded us into who we are today. For that reason, it is among the best historical podcasts and well worth looking into. 
This historical podcast is not just for the country music fan. After listening, you may become one. A podcast about country music's history in the 20th century, Tyler Mahan Coe is the creator-writer-producer who saw the history of country music not being passed to the next generation and decided to do something about it. Coe's determination and dedication to revealing the truth behind the tall tales of country music is contagious. Started in 2017, by early 2018, Cocaine & Rhinestones occupied the #1 music podcast position in both US and UK. 
This well-researched historical podcast takes an entertaining dive into a variety of historical topics. Dan Carlin goes to great length and detail to discuss topics, leading some episodes to be lengthy, running up to four hours in length. Most of these great history podcasts have a cost, with a select group of episodes available free of charge. 
This 192-episode best history podcast is a complete history of the Roman Empire. Beginning with Aeneas's arrival and Italy and the finale ending with the exile of Romulus Augustulus, the last Emperor of the Western Roman Empire, check out this podcast to get a full historical picture of this fascinating time period. 
We all know that truth is sometimes more frightening than fiction, and this best historical podcast is all about non-fiction scary stories. With each episode examining a historical event showing the darker side of human nature, the presentation style is likened to a campfire storytelling experience. With over 35,000 5-star reviews on Apple Podcasts and upward of 310 thousand listens, check out this critically-acclaimed best history podcast. 
This best history podcast show explores hip-hop's most exemplary moments. The stories are told by the people who actually lived them. Narrated by Reggie Ossé, Mogul tells the story of hip-hop. Aimed at general audiences, you can expect to walk away learning something new about this captivating genre and the people and musicians who brought it to life.
Supreme Court decisions shape everything from marriage and money to public safety and sex. We know these are very important decisions we should all pay attention to – but they often feel untouchable and even unknowable. Radiolab's first ever spin-off series, More Perfect, connects you to the decisions made inside the court's hallowed halls, and explains what those rulings mean for "we the people" who exist far from the bench. More Perfect bypasses the wonkiness and tells stories behind some of the court's biggest rulings.
This podcast, hosted by Avery Trufelman, delves into the interesting stories of people who tested the limits to design a better world and what happens when those plans don't go as they thought they would. Season one, titled Utopian, explores the ceaseless hunt for the perfect place. This is one of the best podcasts history scholars and general listeners alike should check out. 
Presidential takes its listeners through a historical journey, exploring the personality and legacy of each American president chronologically. This best history podcast features the best experts on the U.S. presidents. Listeners can begin at the beginning with the life of George Washington, or skip to a president whose story and legacy they want to better grasp.
Malcoln Gladwell leads the exploration through often overlooked and misunderstood topics. Each episode examines an event, idea, person, or anything else from the past, and asks the questions to see if historians "got it right" the first time around. This is a best history podcast you won't want to miss. 
Great history podcast Slow Burn cleverly takes historical events of the recent past and summons listeners to imagine or recall what living through the event was like as it was unfolding. Recent events such as Watergate, the U.S. invasion of Iraq, the Monica Lewinsky Scandal are a few of the 58 episodes in this best history podcast series. This is one of the best podcasts history scholars or even general listeners won't want to miss. 
Historical podcast Throughline is part of NPR's podcast inventory that discusses the history we forgot, or didn't know in the first place, of events and ideas that lead national conversations. Hosts Rund Adelfatah and Ramtin Arablouei excel at rich storytelling, using cinematic and sound rich techniques to ignite the imagination. WIth the story and perspectives sometimes missing in textbooks, Throughline will help you understand today's complex world. 
This best history podcast brings to life the stories that were not part of the official history of the Civil War, taking on the history Americans have grown up with. Untold stories of resistance, corruption, undercover operations, mutiny, and more are exposed. The struggles of the Civil War are connected to the political battleground we live in today. 
This best history podcast, Age of Napoleon, gives the story of the life and legend of Napoleon Bonaparte as well as the situation in Europe during the early eighteenth and nineteenth century. Age of Napoleon masterfly helps the listener understand the great span of history, in addition to the small individual stories that bring history to life.
Exploring the history of Hollywood's first one hundred years, this best history podcast is hosted by Karina Longworth and features famous guest stars. This well researched podcast makes every attempt for accuracy, but the truth can be fuzzy when exploring secret and forgotten histories. Check out You Must Remember This for an entertaining and carefully produced history podcast.
This best history podcast explores the history of slavery in America. Examining how slavery shaped America's politics, economy and culture, titles include: How Did American Slavery End, What Happened When the Slaves Rebelled, The Family Life of Enslaved People, and When Cotton Became King. Check out this historical podcast developed with the input of acclaimed historians on this important subject. 
History buff and comedian Dave Anthony and co-host comedian Gareth Reynolds appeal to both history and comedy fans. The formula for this best history podcast is this: Dave reads Gareth a story he has never heard before and he has no idea what the topic is going to be about. This entertaining bi-weekly best history podcast with over 300 episodes, check it out to learn obscure American history and have a good laugh at the same time. 
This award winning best history podcast, The History of Rome, abbreviated THoR, was created by Mike Duncan and aired from 2007 to 2012. THoR won best educational podcast in 2010. This robust history podcast covers the period from the origin of the Roman Kingdom to the Fall of the Western Roman empire. With 179 episodes, the entire history of Rome is broken down into digestible installments. 
With a similar format to The History of Rome, Host David Crowther covers the full history of England. With over three hundred episodes now available, and currently at the end of the 16th century, listeners can expect to have content galore. David Crowther retells the history of England in a chronological podcast beginning at the ruinous end of Roman Britain and working towards the present day. 
This highly regarded best history podcast looks into historical events in order to give context to current political issues. Host Bruce Carlson lends context to what is currently going on in today's world by relating our history to these events. Since 2006, this great history podcast has been discussing the long roots of history that bring light to the events of the day. Whether they enjoy listening to the current podcasts, or going back into the extensive back catalog, listeners will not be disappointed. 
FAQ's
I'm new to this. What exactly is a podcast? 
A podcast is a digital audio file made available on the Internet for downloading to a computer or mobile device. They are typically a series, with new installments available to be received by subscribers automatically. 
Why are podcasts such a big thing now?
With the advent of our current mobile technology, podcasts of all genres have taken off. In the car, on a plane, or on a walk in the neighborhood, listening to podcasts are here to stay. There are new podcasts popping up constantly. 
Does listening to a good podcast help while we multitask?
Listening to your favorite subject on the go while doing other things is a great way to learn. This form of hands-free entertainment (or education?) goes on during many a morning commute, while doing the dishes, or while folding laundry. Podcasts may add a bit more of a leisurely feel to a busy life. Load up your device with podcasts so you have plenty to choose from when you are wanting something to listen to. 
How many podcasts are out there? 
According to PodcastHosting.org, as of June 2021 there were over 2 million podcasts available, with more than 48 million episodes. If you don't like any of the best history podcasts mentioned here, keep looking! There's plenty to choose from. 
Who's listening to podcasts? 
With 50% of the US population being podcast fans, 104 million of them listen to a podcast at least once a month, and 68 million listen weekly. Sixteen million people in the US consider themselves "avid podcast fans," and listeners are split pretty evenly, with 51% of listeners male and 49% female. Clearly, this is a growing mode of history education, and you can find podcasts on a wide array of topics. 
What else can I learn through listening to podcasts? 
Listeners can learn directly from podcasts hosts and their guests in free tutorials on whatever topic or genre they wish. No matter what it is you're interested in, you can be sure you'll find multiple podcasts a topic of interest. 
Who is actually producing all these podcasts? 
Podcasts can come from individuals, large and small companies, radio networks, TV networks, podcast-only networks, comedians, storytellers, and churches. By supporting a podcast, you may be supporting an individual or any of these podcast producers. 
These are just some of our best history podcasts. We hope that these will find these podcasts as educational as they are entertaining.
By Carol Dolan BS RN BSN CDCES
June 2021
Carol graduated with her BS in Nutrition from Montclair State University and her BSN in Nursing from Rowan University. She is a Certified Diabetes Care and Education Specialist (CDCES) currently working with adults and children living with diabetes in both outpatient and inpatient settings.