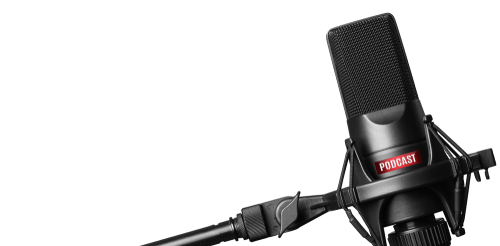 Thinking about enrolling in one of our top-rated Bachelor's of History degree programs?  Or maybe you're close to completing one of our highest-rated online Master's degrees in History?  When studying a topic as wide as history, there are so many different pieces of information regarding different events and cultures that it's impossible to learn everything.  But that shouldn't stop you from trying!  We've compiled a list of some of our best history podcasts. We hope that these podcasts will keep you entertained during your studies while also teaching you about historical events that you may not have covered in your more traditional studies.
Our Best History Podcasts (in no particular order)
The Dollop –  An incredibly entertaining listen, The Dollop is a bi-weekly podcast in which comedian Dave Anthony reads a story from American history to comedian Gareth Reynolds who has no idea what the topic is going to be about.  With over three-hundred episodes to choose from, many of which are live episodes featuring other prominent comedians, The Dollop is a hilarious way to learn some obscure American history.
Dan Carlin's Hardcore History –  Heavily researched, Dan Carlin's Hardcore History provides students an entertaining deep dive into a variety of different historical topics.  With some episodes lasting up to four hours long, Dan Carlin is sure to discuss topics in great detail and at great length.  While a select few of the episodes are available for free, most of them are hidden behind a paywall.
The History of Rome – Highly-rated amongst history podcast aficionados, is a short-form podcast that traces the entire history of the Roman empire.  Over the course of 179 episodes, host Mike Duncan is able to break down the entire history of Rome into easily digested chunks.  The History of Rome won an award for Best Educational Podcast in 2010.
The History of England – Hosted by David Crowther, the History of England follows a format very similar to that of The History of Rome.  Listen in as David Crowther deep dives into the entire history of the English.  With over two-hundred episodes currently available, and still only at the Renaissance, listeners are ensured an incredible amount of content to listen to.
My History Can Beat Up Your Politics – Another highly-regarded podcast, My History Can Beat Up Your Politics looks at historical events in order to provide a lens of context for current political issues.  By relating our history to the events of today, host Bruce Carlson is able to lend a greater deal of context to what is going on in our world today. Having been around since 2006, this podcast has a very extensive back catalog for new listeners to partake in.
You Must Remember This – Focusing primarily on the history of Hollywood, You Must Remember This is hosted by Karina Longworth and is produced with amazing production value.  Featuring a cast of famous guest stars, tight writing, and slick editing, You Must Remember This presents Hollywood history in an entertaining, well-produced package.
These are just some of our best history podcasts.  We hope that these will find these podcasts as educational as they are entertaining.