Share this infographic on your site!
Online College Enrollment: By the Numbers
In 2012 –
Number of students enrolled exclusively in distance education courses
2,642,158
or 12.5%
Number of students enrolled in some but not all distance education courses
2,809,942
or 13.3%
Number of students not enrolled in any distance education courses
15,694,955
or 74.2%
Who is taking online courses?
40% of online students are 29 years of age or younger
40% of online students do not work full-time
More than twice as many women as men enroll in online education
Graduate students are more likely than undergraduates to study exclusively online.
Students studying exclusively online:
Graduate Students: 22%
Undergraduate Students: 11%
Popularity by Fields of Study for Online Students in 2012:
Business: 34%
Health Professions: 16%
Social Sciences: 16%
STEM: 13%
Education: 11%
Humanities or Liberal Arts: 6%
Other: 5%
What kind of school are online students attending?
In 2012 –
Public, not-for-profit: 44%
For-profit: 35%
Private, not-for-profit: 21%
How are Students paying for their education?
Student loans and other financial aid: 36%
Personal funds: 32%
A combination of personal funds and student loans or other financial aid: 25%
It's not all good news
A close look at the Annual Growth Rate for Online Enrollment a startling pattern of decline starts to emerge.
The Influence of MOOCs: Still not accepted
Massive Open Online Courses (MOOCs) were grabbing massive attention a few years ago, but today –
Only 8% of higher education institutions offer one.
And only 5.6% have one in the planning stages.
Among academic leaders
Only 18% believe that MOOCs represent a sustainable method for offering online courses.
And Only 28% say that their faculty accept the "value and legitimacy of online education"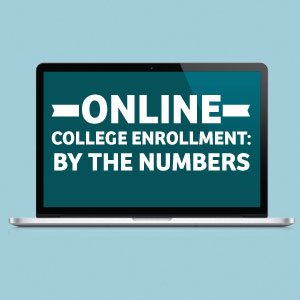 Sources of Information:
https://nces.ed.gov/fastfacts/display.asp?id=80
http://www.usnews.com/education/online-education/articles/2015/02/05/study-shows-sluggish-online-learning-growth-for-second-year
https://nces.ed.gov/programs/digest/d14/tables/dt14_311.15.asp
http://www.usnews.com/education/online-education/articles/2014/06/12/new-government-data-sheds-light-on-online-learners
http://nces.ed.gov/pubs2014/2014023.pdf
http://www.forbes.com/sites/michaelhorn/2015/04/23/report-that-says-online-learning-growth-is-slowing-misses-big-picture/
https://www.insidehighered.com/news/2013/06/26/survey-online-learners-are-starting-resemble-campus-learners#sthash.nAkMA3bU.dpbs