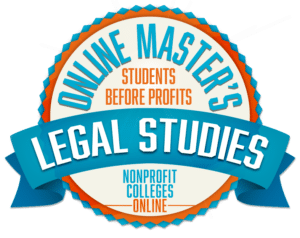 The Students Before Profits Awards were created to recognize nonprofit colleges and universities offering degrees that put students before profits and education before the bottom-line.  For our ranking of the Top Online Master's in Legal Studies, we have selected online Legal Studies and law related Master's degree programs offered through nonprofit and public colleges and universities, with regional accreditation through one of the six accrediting bodies. Programs have been selected with lower than average tuition scores and have been ranked according to affordability.
Work that involves the legal system touches many professions beyond the immediate practice of law. In fact, every industry must comply with legal rules, regulations, and laws—and those industries all need professionals who can handle the complexities of navigating law. The legal studies programs featured in this ranking can help prepare students for a variety of related careers. For those interested in pursuing or advancing their career in law related disciplines, this ranking will undoubtedly hold programs of interest. Furthermore, because these programs are available online, students who are already living busy and demanding work lives will be able to flexibly engage their education by creating a schedule that fit their unique needs.  By completing one of these Master's degrees, graduates will be prepared to move into senior level position in a variety of legal environments and thus will increase their job security, salary earnings, and overall fulfillment with their work.
#1. Liberty University
Located in Central Virginia, Liberty is a liberal arts institution with 17 colleges and schools and offers programs in fields such as education, counseling, religion, law, aviation, cinematic arts, business, and more. With more than 550 programs of study from the certificate to the doctoral level, Liberty equips students with both classroom theory and practical experience, effectively preparing them to enter a competitive job market.
Program Overview:
At Liberty University's Law School, students have the opportunity to earn their Juris Master online. Students can concentrate their studies in American Legal Studies, International Legal Studies, or Health Law, or they might choose a generalist law option for broad studies in law. The law curriculum is built around traditional law courses as well as both skills development courses as well as experiential learning. Additionally, Liberty offers a Master of Laws (LL.M.) in International Legal Studies degree program online. This program is designed to grant students greater understanding of the international normative context in which international legal practice takes place.
Accreditation: Liberty University is regionally accredited by the Southern Association of Colleges and Schools.
Tuition Score 1-100: 99
#2. Hamline University
Minnesota's first university, Hamline University was founded in 1854 in St. Paul Minnesota. It is devoted to empowering students to make the world better for everyone. With the spirit of a trailblazer, we led the charge to educate the state's earliest leaders—before there was a state to lead. As we go boldly into the future, we take the lead once more as difference makers, innovators, and champions of justice, determined to do all the good we can.
Program Overview
The College of Liberal Arts at Hamline offers a fully online Masters in the Study of Law (MSL) which allows students to complete coursework at any time of day and location convenient for them while maintaining the challenge, academic support, and practical skill development of a master's program. In this program students combine the foundational training of an ABA-approved paralegal certificate with specific, in-depth study in a legal area of their choosing to give a highly-nuanced understanding of how the law and legal system impact their work. Students may concentrate in areas of Conflict Resolution, Litigation Support, Professional Practice Management, and Social Justice. Some concentration areas may require on campus visits for coursework, while others are fully online.
Accreditation: Hamline University is regionally accredited by the Higher Learning Commission.
Tuition Score 1-100: 98
#3. Purdue University Global
Purdue West Lafayette was founded in 1869 as Indiana's land-grant institution. The Purdue University system serves students through its flagship campus in West Lafayette, a network of regional campuses and technology centers across Indiana, and now Purdue Global, which can be accessed online at any time. Purdue University Global delivers personalized online education tailored to the unique needs of adults who have work or life experience beyond the classroom, enabling them to develop essential academic and professional skills with the support and flexibility they need to achieve their career goals.
Program Overview
Purdue Global offers online law programs including a Master of Science in Legal Studies and a Master of Public Administration in Legal Studies. These programs are based on practical curriculum which stays current with courses monitored and evaluated on a regular basis to update the content and discover new ways of improving the learning experience for students. Each program focuses on teaching students the relevant skills that can act as a foundation for law school or serve graduates in the real world.
Accreditation: Purdue Global is regionally accredited by the Higher Learning Commission.
Tuition Score 1-100: 97
#4. Saint Leo University
As the oldest Catholic institution of higher education in Florida and one of the top universities in Central Florida, Saint Leo University was founded in 1889 and has a century-long tradition of welcoming students of all faiths. Located near Tampa, Florida, SLU educates just over 2,200 students with nearly 16,000 students enrolled across all campuses. Saint Leo offers over 50 undergraduate degrees, programs and endorsements as well as master's, doctoral and certificate programs in the School of Arts & Sciences, School of Business, and School of Education & Social Services.
Saint Leo University's Online Master of Science in Criminal Justice with concentration in Legal Studies offers flexible programing to enhance the effectiveness and professionalism of both aspiring and active law enforcement professionals. Students will study computerized databases, ethical standards in the administration of justice, human resource management, fiscal resource management, personnel law, and more as well as having access to professional development opportunities such as hands on learning, internships, and more.
Accreditation: Saint Leo University is regionally accredited by the Southern Association of Colleges and Schools.
Tuition Score 1-100: 96
#5. McKendree University
Located in Lebanon, Illinois, McKendree University is a private liberal arts school affiliated with the Methodist Church. Founded in 1828, Mckendree is the oldest college in Illinois. McKendree University confers degrees from four colleges and schools and offers over 50 undergraduate majors, 45 minors, and master's degrees in four areas: business administration, criminal justice, education, nursing, and clinical mental health counseling. McKendree also offers a doctoral program in education, with the opportunity for teachers and administrators to earn a specialist degree.
Program Overview
The Master of Arts in Criminal Justice (MACJ) program at McKendree University is offered in a campus based blended or fully online format. The program is designed to provide students with a scholar-practitioner model that will help them in the practice of criminal justice in their present or future careers. In addition, this program will provide the necessary tools for any student who wishes to continue his or her education at the doctoral level. The Master's program in Criminal Justice at McKendree covers a wide variety of topics. There are four required courses for this program, leaving students the opportunity to choose which area they would like to focus on or allowing them to gain a variety of experience in several areas.
Accreditation: McKendree University is regionally accredited by the Higher Learning Commission.
Tuition Score 1-100: 96
#6. Grand Canyon University
Grand Canyon University is a private, Christian university in Phoenix, Arizona. Grand Canyon University is currently the largest Christian university in the world. In 2018 GCU transitioned from a for-profit institution of higher learning back to its not-for-profit roots. Since 2008, Grand Canyon University has maintained a strong focus on online education for working adults. Around 15,000 students are enrolled in programs on GCU's main campus with some 60,000 students enrolled in online programs.
Program Overview
Grand Canyon University's application-based Master of Science in Criminal Justice with an Emphasis in Legal Studies program focuses on building legal-related contemporary and practical skills in crime analysis and strategic planning to meet current community demands. Students develop skills necessary to consult in criminal justice organizations with an emphasis on real-world preparation, which may lead to networking, internship and career opportunities. A capstone class concludes this masters in legal studies online degree and focuses on professional portfolio development and a final written proposal. The portfolio contains students' curriculum vitae, examples of writing from graduate courses, a statement of criminal justice philosophy, a five-year plan for professional goals and a research topic paper and written proposal.
Accreditation: Grand Canyon University is regionally accredited by the Higher Learning Commission.
Tuition Score 1-100: 95
#7. Capitol Technology University
Capitol Technology University is a private, nonprofit, university northeast of Washington, DC. The university was founded in 1927 as the Capitol Radio Engineering Institute by a former US Navy Radioman. CREI changed its name to Capitol Institute of Technology in 1964, changed its name again to Capitol College in 1987, and assumed its present name in 2014. Capitol offers undergraduate and graduate programs specializing in engineering, computer science, information technology, and business. Capitol's Carnegie Classification is Special Focus Institutions—Schools of Engineering. Capitol offers numerous undergraduate and graduate certificates as well as degree programs culminating in Associate of Applied Science, Bachelor of Science, Master of Science, Doctor of Science and Doctor of Philosophy degrees.
Program Overview
Capitol Technology University's Master of Business Administration includes a specialization option in Technology Management Law and Policy. This online program is crafted to support professionals who are seeking credentials necessary to qualify for management and leadership positions, both in government and industry. The Technology Law and Policy concentration includes coursework in the law around computer security and privacy, intellectual property and innovation, and the law and regulation of e-commerce.
Accreditation: Capitol Technology University is regionally accredited by the Middle States Commission.
Tuition Score 1-100: 94
#8. Pfeiffer University
A private liberal arts university affiliated with the United Methodist Church, Pfeiffer's mission is to prepare servant leaders for lifelong learning. Its regional network of campuses includes a traditional undergraduate campus in Misenheimer, North Carolina, approximately 40 miles northeast of Charlotte, a Charlotte campus and a Raleigh-Durham campus. Established in 1885, Pfeiffer University is a globally engaged, regional university distinctive for its transformational undergraduate experiences and leadership in professional and graduate programs that fill demonstrated needs at its campuses in Misenheimer, Charlotte and Raleigh-Durham, and online.
Program Overview
Pfeiffer's Master of Science in Financial Fraud Investigation is offered online. The program offers a concentration in Civil Litigation and was developed with the input of the field's most knowledgeable experts to assure that graduates are qualified to perform the specialized work of one of the 21st century's fastest growing industries. The curriculum includes coursework in fraud and the law, computer forensics, financial information analysis, organizational communication, and more.
Accreditation: Pfeiffer University is regionally accredited by the Southern Association of Colleges and Schools
Tuition Score 1-100: 93
#9. University of Arizona
The University of Arizona  is a public research university in Tucson, Arizona. Founded in 1885, the UA was the first university in the Arizona Territory. As of 2016, the university enrolls 43,625 students in 19 separate colleges/schools. The University of Arizona is one of the elected members of the Association of American Universities and is consistently named a top national university by multiple publications.
Program Overview
The Online Master of Legal Studies at the University of Arizona is designed to provide a strong legal foundation for those whose future careers involve the growing areas of regulation, compliance, law, negotiations, human resources, law enforcement, or working with agencies, tribal governments or corporations. Students can concentrate in a variety of legal areas including: compliance and legal risk management, international trade and business law, intellectual property, indigenous people's law and policy, human rights, environmental law and policy, tax law and policy, and more.
Accreditation: The University of Arizona is regionally accredited by the Higher Learning Commission.
Tuition Score 1-100: 92
#10. Regent University
Regent University is a private Christian research university located in Virginia Beach, Virginia, United States. The university was founded by Pat Robertson in 1977 as Christian Broadcasting Network University, and changed its name to Regent University in 1990. With associate, bachelor's, master's and doctoral degrees available worldwide, Regent offer affordable, high-quality degree programs to prepare men and women to excel both in mind and spirit.
Program Overview
The Master of Arts in Law from Regent is offered fully online with select on-campus course options at the law school in Virginia, and is designed to expand the skills of professionals whose work may benefit from legal knowledge without requiring a Juris Doctor. Taught from a Christian perspective, this online law degree will equip graduates to operate effectively within a government, corporate, nonprofit, or legal environment, and provide an astute legal perspective to those they lead and serve. Concentrations options are available in a wide variety of areas of law including: paralegal studies, alternative dispute resolution, business, criminal justice, cyber security law, general legal studies, human resource law, national security, regulator compliance, and more. Regent also offers a Master of Laws (LL.M.) in American Legal Studies as well as in Human Rights, both online.
Accreditation: Regent University is regionally accredited by the Southern Association of Colleges and Schools.
Tuition Score 1-100: 90
#11. Lynn University
Located in Boca Raton, Florida, Lynn University is an American private university founded in 1962. Lynn offers an undergraduate and graduate curriculum. Lynn offers more than 25 undergraduate degrees and 10 graduate degrees through its four colleges. Lynn's core curriculum, the Dialogues of Learning, was recognized by Inside Higher Education as an example of how colleges and universities can increase the rigor of their academic offerings and improve the comprehensive education of their students.
Lynn University's online master's degree in criminal justice administration is designed to help students obtain the credentials necessary to move into a higher-level position within criminal justice organizations. The program examines fundamental principles involved in political terrorism—ranging from low-level threats to large-scale acts of violence—and provides an understanding of the global nature of criminal justice.
Accreditation: Lynn University is regionally accredited by the Southern Association of Colleges and Schools.
Tuition Score 1-100: 90
#12. Champlain College
Founded in 1878, Champlain College is a small, nonprofit, private college overlooking Lake Champlain and Burlington, Vermont, with additional campuses in Montreal, Canada, and Dublin, Ireland. Champlain follows a career-driven approach to higher education which prepares students for their professional life from their very first semester. Champlain's academic offerings include over 80 subject areas, including undergraduate majors, minors and specializations as well as online and on-campus graduate degree programs and certificates.
Champlain College offers an online Master of Business Administration with a certificate in Employment Law. The program is designed to allow highly motivated students to earn a master's degree from a nationally recognized, accredited college in as little as one year. The program accommodates working professionals with busy lives and demanding careers, allowing students to choose a one or two-year accelerated path to completion. The Champlain College Online MBA curriculum is designed to meet the evolving needs of today's businesses. Throughout the program, students will learn how to address challenges facing fast-moving, modern enterprises using an integrated approach, and will be able to immediately apply what they learn in their own workplaces.
Accreditation: Champlain College is regionally accredited by the North East Association of Schools and Colleges
Tuition Score 1-100: 88
#13. Arizona State University
Arizona State University is a public metropolitan research university on five campuses across the Phoenix metropolitan area, and four regional learning centers throughout Arizona. ASU is ranked as a university conducting the highest research activity and is consistently named as a top research university nationally. Established in 1885 as a state normal school, ASU has since grown to be one of the largest public universities by enrollment in the U.S. with more than 72,000 students.
ASU's online Master of Legal Studies is a customizable degree with five different emphasis areas in: Sports Law, Law and Sustainability, HR and Employment Law, Intellectual Property Law, Criminal Law, and Corporate and Healthcare Compliance. The program explores the relationship between law and a wide variety of topics that are important to fields such as business, criminal justice, engineering, sports, sustainability, education, banking, intellectual property, entrepreneurship, human resources and many others. International students will find the M.L.S. program to be a valuable resource for gaining a general understanding of U.S. law and how decisions are made within the U.S. legal structure.
Accreditation: Arizona State University is regionally accredited by the Higher Learning Commission.
Tuition Score 1-100: 86
#14. Rowan University
Founded in 1923, Rowan University has since evolved from a teacher preparation college to a bustling regional university that's ranked among the best public universities in the North. Located in Greensboro, New Jersey, Rowan enrolls more than 18,000 students in more than 74 bachelor's and 51 master's degree programs, four doctoral programs and two professional programs. The university is one of just 56 institutions in the country with accredited programs in business, education, engineering and medicine.
Program Overview
Rowan University's Master of Arts in Criminal Justice is available through online study and is focused on the growing emphasis on research evidence in the justice system. In this changing field, successful professionals will need to know how to use research to evaluate the effectiveness of programs aimed at preventing and controlling crime. Graduates will understand cultural and individual differences and how they can play a constructive rather than counterproductive role in the way the criminal justice system operates.
Accreditation: Rowan University is regionally accredited by the Middle States Commission.
Tuition Score 1-100: 85
#15. University of Illinois Springfield
The University of Illinois Springfield is a public university in Springfield, Illinois. The university was established in 1969 as Sangamon State University by the Illinois General Assembly and became a part of the University of Illinois system on July 1, 1995. As a public liberal arts college, and the newest campus in the University of Illinois system, UIS is a member of the Council of Public Liberal Arts Colleges. UIS enrolls over 5,400 students.
Program Overview
UIS' Master of Arts in Legal Studies is designed for professionals to develop a comprehensive understanding of what the legal system is, how it works, how it interrelates with social change, and how it assists people in asserting their rights. Online coursework is designed with flexibility and the working professional in mind. The program allows students to gain professional skills, as well as study legal theory and the role of law in American Society. The degree is particularly suited for U.S. students who are pursing professions where practical knowledge of the law and legal system is required; participating in judicial processes as witnesses, investigators, or resource persons; enforcing compliance with the law, working with legal forms or requirements; or needing to know how legal regulations affect businesses.
Accreditation: University of Illinois Springfield is regionally accredited by the Higher Learning Commission.
Tuition Score 1-100: 80
#16. Villanova University
Villanova University is a Roman Catholic institution of higher learning founded by the Order of Saint Augustine in 1842. Located on its suburban campus close to Philadelphia, Villanova provides a comprehensive education rooted in the liberal arts; a shared commitment to the Augustinian ideals of truth, unity and love; and a community dedicated to service to others. A wide variety of undergraduate, graduate degree, and professional programs are offered through the University's six colleges: the College of Liberal Arts and Sciences, the Villanova School of Business, the College of Engineering, the College of Nursing, the College of Professional Studies, as well as the Villanova University Charles Widger School of Law. With a total enrollment that surpasses 10,000 undergraduate, graduate and law students, Villanova is the oldest and largest Catholic university in the Commonwealth of Pennsylvania.
Program Overview
Villanova's online Master of Laws in Taxation is designed for graduates to develop advanced knowledge and specialized skills in tax law, taxation-based accounting and business. Students gain practical taxation experience through hands-on learning opportunities. Students in the Master of Laws in Taxation program can graduate in as few as 18 months. All courses follow an 8-week session format, allowing students to concentrate on one course at a time while still finishing the degree in under two years.
Accreditation: Villanova University is regionally accredited by the Middle States Commission.
Tuition Score 1-100: 80
#17. Loyola University Chicago
Loyola University Chicago is a private Catholic research university in Chicago, Illinois. Founded in 1870 by the Jesuits, Loyola has since grown to become one of the largest Catholic universities in the United States. Comprising eleven colleges and schools, Loyola offers over 80 undergraduate and 140 graduate/professional programs and enrolls approximately 16,000 students. Loyola has six campuses across the Chicago metropolitan area, as well as a campus in Rome and guest programs in Beijing and Ho Chi Minh City. Loyola Chicago is consistently ranked among the best universities across the country.
Program Overview
Loyola's School of Law offers two Master's level degree programs in Law online: the Master's of Jurisprudence in Business Law and Compliance, and the Master of Laws in Business and Compliance. The Masters of Jurisprudence (MJ) in Business Law & Compliance is a two-year, part-time online degree program designed specifically for business professionals who want to develop expertise in compliance and business legal principles, with a focus on practical skills needed to develop and maintain regulatory compliance programs. The MJ degree is a valuable asset for professionals who seek a greater understanding of the law but do not plan to practice law. The Master of Laws (LLM) in Business Law program is a post-JD master's degree program for attorneys who wish to develop or enhance a special expertise in transactional law and compliance. This 24-credit LLM degree program can be completed exclusively online. The online LLM focuses practical skills courses and in-depth training in compliance, including courses in business planning, securities regulation, corporate compliance, and the Foreign Corrupt Practices Act. This degree is designed for practitioners who would like to enhance their expertise in regulatory and transactional practice and develop practical skills for advising corporate clients.
Accreditation: Loyola Chicago is regionally accredited by the Higher Learning Commission.
Tuition Score 1-100: 78
#18. Texas A&M University College Station
Located in the heart of the Houston-Dallas-Austin triangle, Texas A&M's main campus in College Station is home to more than 62,500 students. Another 5,700 are at the branch campuses in Galveston and Qatar and other locations across Texas. With more than 130 undergraduate degree programs, 170 master's degree programs, 93 doctoral degree programs and 5 first professional degrees as options for study, Texas A&M is one of the Nation's largest universities.
Program Overview
Texas A&M's graduate law degrees provide students rigorous classroom and online instruction, experiential learning, practical drafting skills and a wide range of professional development and networking opportunities to prepare them for global success. Students can earn a Master of Laws or Master of Jurisprudence online in either Wealth Management or Risk Management. These programs are offered fully online which gives professionals the flexibility they need to learn and to meet the increasing need of being versed in the legal aspects of financial transactions and in the legal aspects of financial investment and portfolio management, or of financial risk.
Accreditation: Texas A&M is regionally accredited by the Southern Association of Colleges and Schools.
Tuition Score 1-100: 78
#19. Samford University
Samford University is Alabama's top-ranked private university with nationally ranked academic programs rooted in the university's Christian mission. Located in suburban Birmingham, Samford was founded in 1841 and is the 87th oldest institution of higher learning in the United States. It enrolls 5,509 students from 47 states and 29 countries in 10 academic units: arts, arts and sciences, business, divinity, education, health professions, law, nursing, pharmacy and public health.
Program Overview
The Master of Studies in Law program is a fully online, thirty-six-hour master's degree program offered by Cumberland School of Law. The program is designed primarily for nonlawyers interested in pursuing a graduate degree that will position them for advancement in their current field, although practicing attorneys may choose to pursue a degree that complements their current practice or opens doors to a new area of practice. Our faculty members are industry experts, practicing attorneys, Cumberland School of Law faculty and Samford faculty from other disciplines. Students choose from one of four specialized, career-enhancing concentrations or design a personalized course of study by choosing from a variety of electives through the general option. Concentrations include: Financial Services Regulatory Compliance, Health Law and Policy, Higher Education Law and Compliance, and Legal Project Management.
Accreditation: Samford University is regionally accredited by the Southern Association of Colleges and Schools.
Tuition Score 1-100: 78
#20. North Carolina Central University
North Carolina Central University was founded in 1909 as the National Religious Training School and Chautauqua by Dr. James Edward Shepard. It became the first public liberal arts institution for African Americans in the nation. The University is now a master's comprehensive institution that offers bachelors and master's degrees, a Juris Doctor, and a Ph.D. in Integrated Biosciences to a diverse student population.
Program Overview
North Carolina Central University offers its Master of Library Science with a Law Librarian concentration online. The program is designed to develop an understanding of the foundations of librarianship and information services, and applied knowledge in information systems and research methods. The program of study leads to an ALA-accredited Master of Library Science degree and with the Law Librarian concentration will prepare graduates to fill positions as librarians, archivists and more in law library settings. The program is delivered 100% online.
Accreditation: North Carolina Central University is regionally accredited by the Southern Association of Colleges and Schools.
Tuition Score 1-100: 77
#21. Nova Southeastern University
Established in Fort Lauderdale, Florida in 1964 as a small college with some revolutionary ideas, Nova Southeastern University was originally named Nova University of Advanced Technology and chartered as a graduate institution in the physical and social sciences. In 1994, Nova University merged with Southeastern University of Health Sciences to form Nova Southeastern University. NSU is the largest private, not-for-profit institution in the United States that meets the U.S. Department of Education's criteria as a Hispanic-serving Institution.
Program Overview
NSU offers a variety of Masters of Science in Law degrees with online programs in Education Law, Employment Law, Health Law, and Law and Policy. These programs provide working professionals in education, business, and health an understanding of how their profession intersects with the law. These programs will supply these professionals with the legal knowledge needed to communicate effectively on a variety of issues related to their professions. Graduates will be able to understand how to research legal issues and apply knowledge to their chosen professions.
Accreditation: Nova Southeastern University is regionally accredited by the Southern Association of Colleges and Schools.
Tuition Score 1-100: 77
#22. Chaminade University of Honolulu
Chaminade University of Honolulu is a private university in Honolulu, Hawaii. Founded in 1955 by the Roman Catholic order of the Marianists and one of three Marianist institutions of higher education in the United States. Chaminade is located in the historic Kaimuki district of Honolulu at the base of St. Louis Heights. Chaminade offers bachelor's degrees in 23 fields of study and five master's degree programs. The school specializes in biology, business, criminal justice, education, forensic sciences, interior design, nursing, and religious studies.
Program Overview
The Master of Science in Criminal Justice Administration program at Chaminade University is designed to help students develop critical thinking skills along with the ability to review, analyze, and disseminate applied theoretical knowledge pertaining to criminal justice administration. It is recommended for those who plan to pursue careers/further education in law enforcement, homeland security and leadership development, private security and investigation, probation, parole and community corrections, and law school. The program has concentrations in correction, law enforcement, and as a generalist with a broad look into the criminal justice system. The program features convenient online coursework, small class sizes, and an accelerated pace.
Accreditation: Chaminade University is regionally accredited by the Western Association of Schools and Colleges.
Tuition Score 1-100: 76
#23. University of Arkansas
Founded in 1871 as a land-grant institution, the University of Arkansas is the flagship of the University of Arkansas System. Our 27,000 students represent all 50 states and more than 120 countries. Located in Fayetteville, the U of A has 10 colleges and schools offering more than 210 academic programs. The Carnegie Foundation classifies the university as having "the highest possible level of research," placing us among the top 2 percent of colleges and universities nationwide.
Program Overview
U of A's Master of Laws program in Agricultural and Food Law builds knowledge of the connections between food and health, food labeling and food safety, the impact of climate change on food production, farmed animal welfare, and environmental sustainability. Students explore the full spectrum of law and policy from "from farm to fork" – from the perspective of the farmer, the processor, the retailer and the consumer. Included are issues of sustainability, food security and food-diet health connections. The program offers a full range of distance components to combine the educational benefits of classroom interaction with the efficiencies and economies of remote participation. Distance students may participate in on-campus classes live through synchronous videoconferencing when scheduling permits.
Accreditation: University of Arkansas is regionally accredited by the Southern Association of Colleges and Schools.
Tuition Score 1-100: 76
#24. Seton Hall University
One of the country's leading Catholic universities, Seton Hall University has been developing students in mind, heart and spirit since 1856. Home to nearly 10,000 undergraduate and graduate students and offering more than 90 rigorous majors, Seton Hall is a highly ranked university. Seton Hall's 58-acre main campus is located in the town of South Orange, New Jersey, only 14 miles from Manhattan. The University's nationally-ranked School of Law is located in nearby Newark, N.J.
Program Overview
Seton Hall Law's online law degree programs are ideal for students who are unable to attend on-site classes due to demanding schedules. Students create their own schedules and complete coursework wherever it is most convenient for them. As an online law school student in these master's degree programs students study under the same instructors and benefit from the same challenging coursework as those attending classes on campus. Both the Master of Laws in Financial Services Compliance and the Master of Laws in Health Law are available through online delivery.
Accreditation: Seton Hall University is regionally accredited by the Middle States Commission on Higher Education.
Tuition Score 1-100: 73
#25. Widener University
Widener University is a private, university located in Chester, Pennsylvania. Its main campus sits on 108 acres just southwest of Philadelphia. The university has three other campuses: two in Pennsylvania and one in Wilmington, Delaware. The university enrolls about 3,300 undergraduates and 3,300 graduate students in eight degree-granting schools. The university offers associate's, bachelor's, master's, and doctoral degrees in areas ranging from traditional liberal arts to professional programs.
Program Overview
Widener University's Delaware Law Graduate and Compliance Programs and School of Business offers a Master of Jurisprudence/MBA dual degree. This leading-edge program is designed to give students a strategic advantage in pursuing graduate education in both compliance and business in a convenient online format. The program offers rigorous, graduate-level training in legal analysis and regulatory compliance in a corporate, business, nonprofit, or government environment while developing business skills and acumen at the administrative level.
Accreditation: Widener University is regionally accredited by the Middle States Commission.
Tuition Score 1-100: 73
#26. University of Oklahoma
The University of Oklahoma is a large public research university in Norman, Oklahoma. Founded in 1890 it predates the founding of the state by 17 years. The university enrolls nearly 32,000 students, most at its main campus in the city of Norman. University of Oklahoma offers 152 baccalaureate programs, 160 master's programs, 75 doctorate programs, and 20 majors at the first professional level. The university consists of fifteen colleges, offering majors in disciplines such as aviation, meteorology, geology, petroleum engineering, energy management, architecture, law, medicine, Native American studies, history of science, and dance programs.
Program Overview
The Master of Legal Studies in Indigenous Peoples Law builds on the American Indian Law Certificate offered to juris doctor students, but has been specifically designed by the OU Law faculty for non-lawyers whose careers demand an understanding of the complex rules of Federal Indian law. This program features an accelerated pace that can be taken entirely online. This program offers a strong foundation in Native American Law for anyone who deals with contracts, negotiations or any other issues that demand knowledge of Native American self-governance issues, policy, regulation or business practice.
Accreditation: The University of Oklahoma is regionally accredited by the Higher Learning Commission.
Tuition Score 1-100: 71
#27. University of Nebraska Lincoln
The University of Nebraska–Lincoln, chartered in 1869, is an educational institution of international stature. Nebraska, a member of the Big Ten Conference and the Big Ten Academic Alliance, is classified within the Carnegie "R1: Doctoral Universities – Highest Research Activity" category. Nebraska is also a land-grant university and a member of the Association of Public and Land-grant Universities. The University of Nebraska established the world's first undergraduate psychology laboratory, pioneered the discipline of ecology, and was one of the first institutions west of the Mississippi River to award doctoral degrees.
UNL's Master of Legal Studies Degree Program is designed for individuals who are not interested in practicing law but who are interested in developing a better understanding of the law as it affects their non-legal careers or areas of interest. The program is jointly administered by the College of Law and the Graduate College and is offered online. Students can either take classes on a full-time basis, which will enable them to complete the program in one calendar year, or on a part-time basis. Students who take classes on a part-time basis must take at least one class each semester and must complete the program within three calendar years. Students who are admitted to the program can begin their course work only during a fall semester.
Accreditation: The University of Nebraska Lincoln is regionally accredited by the Higher Learning Commission.
Tuition Score 1-100: 69
#28. West Virginia University
West Virginia University main campus in Morgantown is classified as R1: Doctoral Universities — Highest research activity as described by the Carnegie Classification of Institutions of Higher Education. It is a public, land-grant, space-grant, research-intensive university with other campuses including West Virginia University Institute of Technology in Beckley and Potomac State College of West Virginia University in Keyser; and a second clinical campus for the University's medical and dental schools at Charleston Area Medical Center in Charleston. WVU enrolls over 32,000 students in 191 bachelor's, master's, doctoral, and professional degree programs in 15 colleges.
Program Overview
The Master of Legal Studies at WVU is an online degree program designed to build greater public understanding of the law and the United States legal system. Graduates will be able to apply knowledge and skills gained to perform their jobs more effectively and to provide private and public organizations the benefit of enhanced experience. It is a graduate program of study designed for professionals practicing in areas such as human relations, criminal justice, juvenile justice, journalism, social work, court administration, national security, probation and law enforcement, or regulatory agencies. The program offers three areas of emphasis: healthcare, justice systems, and homeland security.
Accreditation: West Virginia University is regionally accredited by the Higher Learning Commission.
Tuition Score 1-100: 69
#29. Western New England University
Western New England University is a private university in Springfield, Massachusetts. Academic programs are provided through its College of Arts and Sciences, College of Business, College of Engineering, School of Law, and College of Pharmacy. Western New England University is a comprehensive institution that grants degrees across the liberal arts and professional disciplines. The university's academic departments are organized into five academic schools with varying levels of degrees offered. Undergraduate students choose from nearly 50 majors as they earn a Bachelor of Arts, Bachelor of Science, or Bachelor of Science in Business Administration.
Program Overview
WNEU offers the only live, interactive, online Master of Laws in Elder Law and Estate Planning in the U.S. The program offers a unique opportunity for students to take their practice in a new direction or strengthen their expertise to advocate for elders and their families. Students in this program will gain an extensive knowledge of and training in a number of diverse areas of law, including wills and trusts, estate and fiduciary administration, income taxation, federal wealth transfer taxation, and the use of various entities and products (particularly trusts and insurance products) in wealth planning and management. The program also develops expertise in social security law, Medicare, Medicaid, and other federal and state laws and regulations that directly affect these clients.
Accreditation: Western New England University is regionally accredited by the New England Association of Schools and Colleges.
Tuition Score 1-100: 69
#30. University of Alabama
Founded in 1831 as the state's first public college, The University of Alabama is dedicated to excellence in teaching, research and service. U of A  provides a creative, nurturing campus environment where students can become the best individuals possible, learn from the best and brightest faculty, and make a positive difference in the community, the state and the world. The university offers programs of study in 13 academic divisions leading to bachelor's, master's, Education Specialist, and doctoral degrees. The only publicly supported law school in the state is at UA.
Program Overview
U of A offers an online Juris Master in Taxation  degree program that provides sophisticated tax training to non-lawyers who are unable to attend classes on campus. The 30-credit-hour, two-year program offers accountants, business students, and CPAs the opportunity to obtain an advanced tax degree without having to pursue the JD. Courses in the program are taught by distinguished faculty and experienced practitioners from across the country. The JM program prepares professionals for careers dealing with personal tax, business tax, or estate planning. Electives are offered in tax procedure, international tax, bankruptcy, tax-exempt organizations, tax accounting, and business law courses, just to name a few. The university also offers to online Master of Laws degrees one in Taxation, and another in Business Transactions.
Accreditation: The University of Alabama is regionally accredited by the Southern Association of Colleges and Schools
Tuition Score 1-100: 62
Related:
Online Bachelor's Legal Studies
Largest Nonprofit Online Universities
Top Scholarships for Online Students