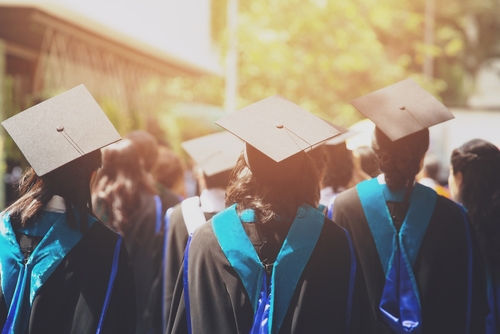 Featured Programs
According to the publisher of FinAid.org and FastWeb.com, the average student graduating in 2011 owed $27,000. Moreover, this debt not only affects the spending power of these graduates, but it also has an impact on their credit, personal savings, pensions, investments and, ultimately, the national economy.
Naturally, enrolling at a good college after you finish high school can be extremely beneficial for your future, but some people have been haunted by student debt into their 60s. That said, with the right information and knowhow, students can choose an affordable education, whether at a traditional four-year university or through an online degree.
Another potential option is to study abroad, and while we can't vouch for the affordability of attending the institutions featured here, a closer look at the Western world's oldest continuously operating universities is sure to pique your interest in foreign study – or perhaps simply inspire you to visit these wonderful locations.
10. University of Murcia, Spain – 1272
The University of Murcia in southeastern Spain has 38,000 students and offers degrees in philosophy, medicine, law, biology, economics, psychology and veterinary science, among other subjects. Alfonso X "the Wise" – who reigned as the King of Castile, León and Galicia during the 13th century – founded the university in 1272. He championed the use of the vernacular language of Castilian over the more traditional Latin for education in science and literature as well as official purposes.
The current university, founded in 1915, has two campuses and is considered the tenth oldest institution of higher learning in Spain – although according to its 13th-century seal, it's the third oldest Spanish university. The University of Murcia is also an annual destination for approximately 1,000 international students from nearly 50 different countries through its international exchange programs.
9. University of Valladolid, Spain – 1241
Located in the Spanish region of Castile-León, the University of Valladolid was founded in 1241. It got its start as an offshoot of the now defunct University of Palencia, which was established by Castile's Alfonso VIII between 1208 and 1212. Originally, it was dedicated to teaching fundamental subjects like grammar, arithmetic, Latin and religious studies. Faculties of law, medicine, art and science were added in the early 20th century, the university having seen an increasing influx of students.
Currently, the University of Valladolid offers more than 100 degrees, 17 postgraduate programs and 50 master's degrees. As one of the foremost institutions in Spain, the university is responsible for the education of some 30,000 students, and it employs nearly 2,700 lecturers as well as around 950 office and service staff. International students (that is, those who don't belong to the European Union) pay approximately $103 per credit hour – significantly less than they would with the average online program in the US.
8. University of Siena, Italy – 1240
Located in beautiful Tuscany, Italy, the University of Siena is as old as it is illustrious: this prestigious institution of higher learning was founded in 1240. On December 26 that year, in order to fund teachers' wages, the chief magistrate of Siena imposed a tax on local residents who let rooms to students. Subjects studied early on were Latin, law, logic and medicine (also known as natural science).
The university prevailed through war, changes in authority and suppression, largely due to the commitment and perseverance of Siena's populace. They guarded and advocated the interests of the university over the course of several centuries.
The University of Siena has grown over the years and now has nine different faculties and a student body of over 20,000. The university also accepts international students and carries out exchange programs.
7. University of Toulouse, France – 1229
University of Toulouse was established in 1229 as part of the Treaty of Paris. This arrangement forced Count Raymond VII to give up control of the Languedoc province (historically known as the county of Toulouse). And the treaty further punished the hapless count by making him pay for the teaching of theology – he being suspected as a heretic sympathizer. Eventually, faculties of medicine and law were included in the university's learning program.
In 1969, the University of Toulouse divided into three distinct institutions, eventually becoming a consortium of research and higher education establishments. Today, over 100,000 students are enrolled at the university, including more than 11,000 international students.
6. University of Naples Federico II, Italy – 1224
On June 5, 1224, the University of Naples was founded by way of an imperial charter mandated by Frederick II, the King of Sicily and Holy Roman Emperor. However, it was only recently, in 1987, that the university was named in Frederick II's honor. Initially, its creation was motivated by politics as much as it was by academia. Frederick II wanted to be the highest authority of the university and required strict loyalty to the crown from teachers and students.
Of course, things changed over time, and eventually the university morphed into what it is today: an institution of higher learning with 96,867 students (as of 2010), 168 degree courses and 87 different departments. According to the University of Naples' website, students and staff participate in exchange programs in Asia, the Americas and the rest of Europe. The university is also working on making itself more appealing to international students.
5. University of Padova, Italy – 1222
The University of Padova, alternatively known as the University of Padua, is an Italian institution of higher learning that was formally established in 1222 – although even then it was listed as "pre-existing." It was created when students and teachers departed the University of Bologna seeking greater academic liberty. The original subjects studied were theology and law, although other courses were added soon after. By the end of the 14th century, disciplines included medicine, rhetoric, astronomy and philosophy.
The university saw early historical achievements in the field of medicine, and from its beginnings it focused on freedom of thought in both teaching and studying. Famously, Galileo Galilei taught there from 1592 until 1610.
Nowadays, the University of Padova accepts international students interested in studying the various degree programs on offer. And, academia aside, those from overseas will surely enjoy the added benefits of the Italian setting and history of the city.
4. University of Cambridge, England – 1209
Cambridge University is, of course, one of the most prestigious universities in the world. According to early records, its origins date back to 1209, when a group of scholars left Oxford, apparently due to some disagreement, and formed their own school. In 1231, King Henry III granted the university a charter, and the institution was further strengthened by the subsequent endorsements of three popes.
Cambridge is currently made up of 31 different colleges and six schools catering to about 18,000 students. As with a lot of the universities on this list, there's a strong international student presence at Cambridge, with some 3,500 foreign students hailing from 120 countries. Although tuition and living expenses can be high, students from all over the world still choose to attend Cambridge due to its excellent reputation and high academic standards.
3. University of Salamanca, Spain – 1134
Located 120 miles west of Madrid, the University of Salamanca is truly ancient. This venerable institution was officially established in 1218 by the royal decree of King Alfonso IX, although it was actually founded in 1134, and teaching at the site dates back to at least 1130 – making it the oldest university in Spain.
Salamanca offers 81 different degree courses and is noted for attracting students from Spain and beyond. In 2008, 35 percent of its doctorate students were non-European, and a high number came from Latin America. The university has a very strong Spanish program, providing language courses to over 7,000 students in a single year. Meanwhile, its doctorate programs include microbiology and molecular genetics, neuroscience, psychology, and prehistoric science. Interestingly, centuries back the university also played a key role in the early development of law and economic science.
2. University of Oxford, England – 1096
The University of Oxford, England is the second oldest still-functioning university and the oldest university in the English-speaking world. According to some sources, teaching took place at Oxford from as early as 1096, but the university quickly increased in size when, in 1167, Henry II forbade English students from studying at the University of Paris.
Oxford has been the focal point for controversy throughout history, including the translation of the Bible into English – in direct opposition to the wishes of the papacy – and Henry VIII making the university acknowledge his divorce from Catherine of Aragon. It was also the scene of professor Edmund Halley's accurate prediction of the return of the comet now known as Halley's Comet.
Today, Oxford University is known as an extremely competitive, top-ranking school. Over 22,000 students attend the university, and according to its official website, 94 percent of graduates have a job within six months of finishing their degrees.
1. University of Bologna, Italy – 1088
The University of Bologna in Italy is generally recognized as the oldest university in the Western world, and it boasts many famous alumni, including the poet Dante Alighieri. Although Frederick I granted the university a royal charter in 1158, researchers have traced the origins of the institution to the year 1088. Historically, students at Bologna studied civil and canon law, with more courses of study added in the modern era.
Today, the University of Bologna is divided into 23 schools. Out of the roughly 100,000-strong student body, 5,000 hail from outside Italy, while an additional 2,000 study at the university every year as part of its exchange programs. According to the 2010 QS World University Rankings, Bologna was ranked 32nd in the world for law and 176th overall.
Related:
Largest Nonprofit Online Universities
Top Scholarships for Online Students
Affordable Nonprofit Online Colleges
This concludes our feature on the oldest universities in the world.