Are you considering earning a master's in Teaching English for Speakers of Other Languages (TESOL)? There are a wide array of career opportunities and online English teaching jobs for the TESOL professional, particularly those with a master's TESOL degree. 
Earning a master's in TESOL promises to give educators in this exciting field versatility in their opportunities for a variety of careers. Do you dream of having an online English teaching job? Are you wondering what jobs you can get with a TESOL master's? Read on to learn more about what jobs you can get with a TESOL master's degree and receive other intriguing information like how much do TESOL jobs pay. 
Is it worth it to get a master's TESOL degree? 
If you are wondering whether getting a TESOL master's degree is worth it to you, consider if you are working towards making a career out of teaching English. TESOL master's programs are graduate programs that are typically about two years in length and focus on pedagogy. Pedagogy is the method and practice of teaching an academic or theoretical concept. These programs usually focus on language theory, research, and teaching English practice. A master's in TESOL can be pursued online or on-campus, with the online option able to be completed wherever you have internet access. 
Read on to see what jobs may be within your reach with a master's in TESOL degree. All are English teaching jobs, but there are variations. Many think of online English teaching jobs, but English teaching jobs an be in-person as well. 
What jobs can you get with a TESOL master's degree?
K-12 English as a Second Language (ESL) Teacher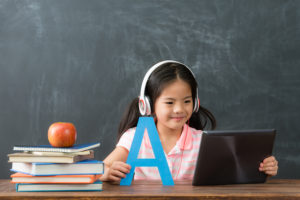 Teaching elementary through high school English to non-native speakers in the United States is a satisfying position that helps students succeed academically and socially. Many who immigrate to the U.S. do not speak English, and the children can get the extra support they need through their local public school. While many immigrants live in bilingual communities, making the transition a bit easier, students will need to complete school work and learn to communicate fluently in English. Teaching K-12 ESL is an essential role to help English Language Learners (ELLs) excel in their new country.  
Postsecondary English Teacher  
A master's degree in TESOL is considered the terminal degree for teaching English to non-native speakers. Teaching English to non-native English speakers in colleges and universities will put your skills to the test, helping these students to succeed in their second language academically. These students are typically up for the challenge and can be very motivated to succeed. 
Community ESL Teacher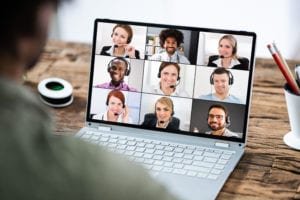 Community English teachers teach in more of an informal setting, often meeting in churches, libraries, and other community buildings that are easily accessed by adults wishing to improve their English. These positions are often voluntary and sometimes used by organizations as community outreach to get to know people new to the community. This occupation may require teaching speakers and writers from the beginner to more advanced levels. 
Teaching English Abroad
TESOL jobs abroad have become numerous, with opportunities to pursue by traveling to a non-English-speaking country or by teaching remotely. Traveling to another country to teach English as a foreign language (EFL) affords opportunities to experience new cultures, see new places, and meet interesting people. By earning a master's in TESOL, you will be most qualified, from an educational standpoint, for these exciting positions abroad.  
Language School Program Director
Directors of language schools can benefit from having a master's in TESOL degree. These schools may be at home or abroad, with the program director ensuring the school is academically successful. This position requires TESOL knowledge, leadership skills, and organizational skills needed to make sure the school's curriculum meets the needs of the students. Making sure teaching staff are trained and have the tools needed will help all learners in the school. Program directors create a collaborative environment, providing a rich environment for English Language Learners (ELLs).
Curriculum Specialist for Educational and Governmental Institutions
Curriculum specialists develop and improve upon course materials used to teach English in schools and other governmental institutions. These curriculum specialists mentor teachers, teach how to make best use of material, and give and get feedback for improving the curriculum. 
Private English Tutor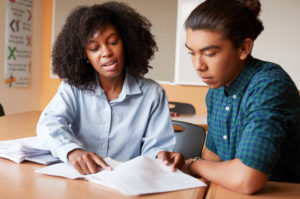 Some TESOL professionals enjoy teaching English individually as private tutors. If you enjoy working independently, private tutoring may be a good fit.  Private English tutors may work for themselves as freelancers or for a company as an employee. Tutoring can be done individually, in small groups, by age and lesson type (business English, medical English, etc). Private English tutoring can be done in the United States in-person, from any location online, or abroad, and it can be very well-paying. Private tutors who have earned their master's in TESOL can earn significantly more than those without the degree. 
Online ESL Instructor
Some enjoy the perks of teaching English online from home. These benefits include the lack of a commute and a flexible schedule. People with their own tutoring business can set their rates competitively. Those with their master's in TESOL may work for themselves or an ESL school, and enjoy higher pay due to their advanced degree. 
TESOL Curriculum and Class Materials Writer
An ESL materials writer designs curriculum materials for English language learners. ESL teachers use these materials for their schools or tutoring services. Materials writers may work directly for a language school, government organization, or another ESL program that needs materials. Materials typically include course materials, worksheets, and other standard material used for teaching. Learning to develop materials for the EFL classroom will put your master's in TESOL to good use. 
TESOL Software Apps Developer
After a few years of teaching, some find their interest moves to developing software and apps for the English Language Learners (ELLs). TESOL graduates with their master's degree are well qualified to branch out into this teaching support career area. This is an excellent opportunity for those with advanced writing skills that have strong TESOL experience and a good knowledge base. 
Consultants and Resource Specialists for ESL Teachers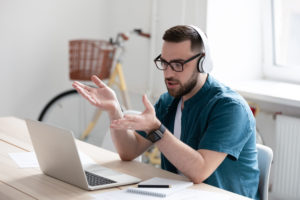 Being a resource specialist for ESL teachers offers both flexibility and the need to be on the cutting edge of the TESOL profession. Knowing the latest research, trends, and teaching resources and making them accessible for ESL teachers is a huge aspect of this potential job for those with a master's in TESOL. 
How much does a TESOL professional make? 
As always, education, experience, and location make all the difference in the paycheck. According to the Bureau of Labor Statistics (BLS.org), the median wage in May 2020 was $55,350 for Adult Basic Education, Adult Secondary Education, and English as a Second Language Instructors.
What is the job outlook at home for people with a master's in TESOL?
Despite what appears to be a great need for ESL teachers, employment for adult basic and secondary education and ESL teachers is projected to decline by 10% from 2019-2029 due to the decline in enrollment in adult education and ESL programs in recent years. High school graduation rates have increased, which reduces the number of adults seeking to obtain a high school equivalency credential. As this trend continues, the demand for ESL teachers would continue to decline. Changes in governmental funding for adult ESL programs may also impact demand. 
What is the job outlook abroad for people with a master's in TESOL? 
As opposed to the poor job outlook at home for TESOL degree holders, TESOL instructors should find a different story abroad. Many ESL instructors work through teaching agencies that operate through a traditional academic approach (in person, requiring a move to a foreign country), or online (requiring an internet connection from wherever you happen to be on the globe). Those who have a master's in TESOL and are willing to relocate often earn more than those teaching from an online platform, but those working online will find a broader marketplace. 
How can I get started toward earning my master's degree in TESOL?
Checking out the many master's programs in TESOL now available is a good place to start. Take time to speak with TESOL professionals about the profession and the route to a master's in TESOL. 
What are common terms in the TESOL realm?
Some terms may be used interchangeably, but here's an idea.
TESOL-Teaching English for Speakers of Other Languages is the term often used in North America.
TEFL- Teaching English as a Foreign Language refers to teaching English to those who live in a country where English is not the official language, and is used more commonly in Europe, South Africa, Australia, and the United Kingdom. 
ELL- English Language Learners
ESL- English as a Second Language
EFL- English as a Foreign Language
Do people in this profession participate in a professional organization?
All professions have their professional organizations, and ESL teachers are no exception. Check out TESOL International Association for more information on this exciting career. This professional TESOL organization has materials for purchase, continuing education opportunities and career guidance information. 
What factors should I consider when looking for a master's in TESOL program?
Check out the school's reputation with students and within the TESOL field in general. Take time to speak with a current student, recent graduate, and a department member. Doing this promises to give a prospective student a lot of information about the program and give an idea of whether it's a good match. Check out the school's professional networking opportunities. Is there an active alumni group to provide these opportunities? 
What does ongoing professional development in TESOL look like?
Continuing education, professional networking (in-person and online), being mentored, mentoring others, joining your professional organization and their local chapter, attending conferences, speaking at conferences, and submitting articles and resources for publication are all ways to continue developing as a professional in TESOL. 
What kind of master's in TESOL should I choose?
These days, choices abound. Brick-and-mortar? Online? Hybrid?
Brick-and-mortar programs are often preferred by those wishing for a traditional college experience, which includes going to in-person classes at a university. This format offers itself as a great way to meet other students that are pursuing the same goal. Utilizing the school's library and computer labs on campus is a big plus to this type of experience. Many find on-campus programs more conducive to learning because of the in-person instruction and the camaraderie of classmates. Master's in TESOL classes are often offered late afternoon or evening to accommodate working professionals. 
Online master's in TESOL are many times preferred by those needing to stay in their geographical area due to work and personal obligations. This format offers the exciting opportunity to connect with students from around the globe, bringing rich diversity in backgrounds and ideas to the online classroom. 
Hybrid classes offer the pros and cons of both brick-and-mortar and online courses. Some enjoy the variety a hybrid program brings. These courses typically require students to come to the campus for certain short times during the program. Students often enjoy the flexibility and the opportunity for in-person interaction with professors and students. 
If I get my master's in TESOL, do I have to attend at a specific time?
Online courses are delivered in one of two formats: synchronous and asynchronous. Synchronous classes take place in real time via computer classes, often involving webcams, PowerPoint, and live student discussions with small groups. Asynchronous classes do not require students to be in class at a specific time. These classes are delivered via prerecorded video, and students typically respond to questions from the instructor and to other students' comments. All courses will include the typical college assignments completed by the student and submitted by a specific date and time.
By Carol Dolan BS RN BSN CDCES
May 2021
Carol graduated with her BS in Nutrition from Montclair State University and her BSN in Nursing from Rowan University. She is a Certified Diabetes Care and Education Specialist (CDCES) currently working with adults and children living with diabetes in both outpatient and inpatient settings.
Related:
This concludes our article on the jobs available for those with a master's in TESOL.