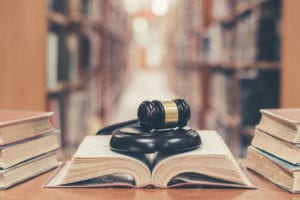 An online PhD in Criminal Justice may be your ticket to an interesting and high-paying career position in this fascinating field. Both a PhD in Criminology online and an online PhD in Criminal Justice are terminal degrees, the highest degree one can earn in the field. Graduates can expect to gain skills and knowledge to work in the legal system and criminal justice system, including prevention and policy implementation for community safety. With advanced understanding of criminal behavior, graduates with a PhD in this field have doors open to enhance public safety and deal with rehabilitation of criminals. Check out our list of possible careers for those with an online PhD in Criminology, and see if you find something that piques your interest in this field.
Political Scientist
As a Political Scientist with an online Criminal Justice PhD, you will evaluate public policies, forecast social changes in society, and make political predictions through data analysis. With an online PhD in Criminology, you will have a broader understanding of the influence of crime on politics and both national and local policy making. Doing research analysis for those lobbying for change within the criminal justice system can help to guide changes within the system for a safer community as well as within the prison system. Political Scientists can be part of effective change locally, nationally, and internationally through their research information & analysis. According to the Bureau of Labor Statistics (BLS.gov), employment for Political Scientists is expected to grow faster than the average for all occupations.
Forensic Science Technician
Forensic Science Technicians typically begin working with a bachelor's degree, but an online PhD in Criminology can help you build the knowledge and skills needed for advancement in this field. Forensic Science Technicians with an online PhD in Criminology understand how to handle evidence from a crime scene and from criminals themselves, and can provide accurate testimony to exonerate or convict criminals. The number of job opportunities in this field is growing at a much faster rate than the average for all other occupations, as the need for criminal investigations through the collection and analysis of evidence grows. Many work extended or unusual hours as they perform their investigations.
Forensic Psychologist
Forensic Psychologists use psychology principles as they associate with law and the civil and criminal justice system. According to The American Board of Forensic Psychology, Forensic Psychology "is the application of the science and profession of psychology to questions and issues relating to law and the legal system." Forensic Psychologists work with attorneys, judges, and others in the justice system to understand and analyze the psychological aspect of a legal case. Forensic Psychologists may specialize in criminal, family, or civil cases, and they can be an expert witness in court cases. Often working with people in intense emotional states, Forensic Psychologists can find their work very demanding.
Criminal Justice & Law Enforcement Professor
With an online PhD in Criminology or Criminal Justice, doors may open to pursue an academic position as a Criminal Justice & Law Enforcement Professor. People in this academic position facilitate student discussion and education on topics that include law enforcement & law enforcement administration, criminal investigation, the criminal justice system, statistics, domestic violence, criminal behavior, crime prevention, careers in this field, and more. People who enter this field with an online PhD in Criminal Justice typically enjoy mentoring students and planning and carrying out their curriculum plan.
Sociologist
Sociologists with a PhD in Criminology online have a broad field open to them within the justice system, research, business, social services, and government industries. Do jobs such as Foreign Service Officer, Loss Prevention Strategist, Social Researcher, or Juvenile Court Worker spark your interest? With an online PhD in Criminology and work as a Sociologist, you can use your skills and knowledge to make a difference, helping to prevent crime and bring criminals to justice.
Intelligence Analyst
An Intelligence Analyst with a degree from one of the online PhD programs in Criminal Justice will have the skills to identify and mitigate threats to the community. Intelligence Analysts work to identify security threats and mitigate those threats. People in this position use critical thinking skills to analyze statistics and field information. They have exceptional problem-solving and decision-making skills, are excellent with interpersonal communication, and may speak a foreign language. Intelligence Analysts must pass extensive background checks for security clearance.
Immigration & Customs Inspector
To begin this career, a PhD is not needed, but if you wish to grow into leadership within the U.S. Immigration & Customs Enforcement (ICE) Agency, a PhD in Criminology online may help pave the way to advancement in this exciting field. Immigration & Customs Inspectors can expect to investigate and inspect people, merchandise, and carriers arriving and departing from the U.S. or between states. Their job is to detect and report violations of immigration & customs regulations and laws. This important area of work helps protect the community, the country, and its borders from crime.
Police Chief
You can fulfill your dream of being in law enforcement as a Police Chief with a degree from one of the available online PhD programs in Criminal Justice. As a visible leader in the community and local government, work as a Police Chief can be exciting and challenging. The Police Chief has the responsibility to oversee the operation and budget of the police department. As the leader of the department, they can enjoy getting praised for its successes, but also are held responsible for its failures. A Police Chief must have leadership skills and integrity, and they should fulfill the community's expectation for professionalism within the police department.
Policy Writer and Lobbyist
Work in this interesting field includes creating policies, advising officials, and advocating for political issues. A PhD in Criminology online will provide knowledge and skills that can be used to excel in this field. Lobbying is lawfully attempting to influence policies or decisions of governing officials. Lobbyists must understand laws and be able to persuade officials to act favorably on their organization's behalf. Policy Writers may work with Lobbyists, with the Lobbyists providing technical information and insight on proposed policies.
Lawyer
Lawyers within the criminal justice system may work as a prosecutor or a criminal lawyer. A prosecutor is a government attorney that handles cases against individuals that are accused of crimes. Some may have a narrow scope such as juvenile prosecution or domestic violence. The criminal lawyer represents the accused facing criminal charges. The criminal lawyer's scope includes plea bargaining, revocation hearings, appeals, and post-conviction hearings, among other things. Lawyers with a PhD in criminal justice online are sure to have skills needed in this important field of work.
Sheriff and Deputy Sheriff
The Sheriff is the top law enforcement officer in a county, and is typically elected to this role. Sheriffs have the power to make arrests and apprehend those who are a threat to the community. They may serve warrants, seize goods found during an arrest, and more. A PhD in Criminal Justice online can help provide the education needed to serve in this position with excellence and skill. In addition to enforcing the law, Sheriffs and Deputy Sheriffs often have duties in the court system, maintain financial records, and have traffic duties.
Researcher
Every field has its Researchers, and Criminal Justice is no exception. A PhD in Criminology online can help pave your way in this important research field. Researchers in this field work to understand the impact of policies, social programs, education programs, and more that is related to the rise or fall of criminal behavior in a society. Researchers work to see if daily practices and policies work in real life. Whether working to reduce crime, improve loss prevention strategies in the private or governmental arena, or rehabilitate former criminals, researchers are needed to help keep our communities safe.
Police Detective
Many people love a good detective show, but what do Police Detectives do in real life? Detectives work with police officers, crime scene investigation personnel, and evidence collectors to build a criminal case. Police Detectives have the skills to analyze evidence, conduct interviews, and analyze information to reach a conclusion about what happened during an incident.  Getting an online PhD in Criminology can help develop the needed skills to excel in this fascinating and possibly dangerous field.
Security Managers
Security Managers are responsible for creating safe environments and developing policies and procedures for emergency situations. Handling medical emergencies and evacuating people during fire, flood, or other emergencies are all a part of their role, and a PhD in Criminology can play an important role in helping develop the knowledge and skills needed to be successful in this role. Directing security functions that include ensuring the safety of employees, their facilities, and the organization's assets come under the Security Manager's responsibilities. Creation and implementation of standards, policies, and procedures are all part of the Security Manager's important role.
Regulatory Affairs Manager
Regulatory Affairs Managers oversee compliance with government regulations and operating procedures. They plan, direct, and coordinate activities to ensure their organization is within compliance. The role of the Regulatory Affairs Manager also includes responding to regulatory agencies in regard to product information or product issues. In addition, they prepare and submit regulatory agency applications, review submissions to ensure compliance to standards, develop strategies for implementation of compliance plans, and maintain current regulatory knowledge to properly uphold regulations. Regulatory Affairs Managers with an online PhD in Criminology may set themselves apart for increased opportunity in this important field of work.
Homeland Security Agent
Homeland Security Agents work for the Department of Homeland Security (DHS) to ensure national security at the United States' borders, airports, and seaports. These important agents may also be involved in handling initiatives in international affairs and U.S. national security efforts in overseas locations. DHS agents may have responsible positions in travel security, immigration & border protection, intelligence, and enforcement of laws among other things. A PhD Criminal Justice online degree can help pave the way to leadership roles in this field of work.
Emergency Management Director
Emergency Management Directors are the go-to people for preparation and planning procedures for responding to natural or manmade disasters. People in this important role lead the response following an emergency, coordinating with public safety departments, government agencies, elected officials, and nonprofit agencies. These are the professionals that anticipate and mediate hazards and vulnerabilities and work to prepare for, mitigate, and recover from emergencies. Emergency Management Directors that have earned their online Criminal Justice PhD can expect to have increased knowledge to respond to emergency and disaster situations with.
Information Security Analyst
An Information Security Analyst carries out the plan for security protocols to protect computer networks and computer systems. According to the Bureau of Labor Statistics (BLS.gov) job seekers can expect a much faster than average growth in this field over the next 10 years. Demand in this field will be very high due to the needs for solutions to prevent security breaches, protect critical information, and solve computer network problems. People in this profession monitor, prevent, and stop cyber attacks. As society relies more and more on technology to store and share data of all kinds, Information Security Analysts will need to be there to protect computer systems and networks. Information Security Analysts plan disaster recovery and keep up to date with security measures. Analysts who have graduated from an online PhD program in Criminal Justice will have an understanding of crime prevention in this growing field.
For sure, a Criminology PhD online or a PhD in Criminal Justice online, may help you excel in one of these exciting careers. With the ability to look at crime theories and the effects of crime on a society, people with an online PhD in Criminology or a PhD in Criminal Justice online are prepared to understand the criminal mind, and how to keep society safe. Graduates of online PhD in Criminology programs or online PhD Criminal Justice programs can expect to have the skills and knowledge to make a meaningful contribution to the security of societies and organizations. With careers related to law enforcement growing, people in this field can also anticipate secure options for employment.
Related:
Best Online PhD in Criminal Justice Programs
Best Online Master's in Law Enforcement
By Carol Dolan
March 2021
Carol graduated with her BS in Nutrition from Montclair State University and her BSN in Nursing from Rowan University. She is a Certified Diabetes Care and Education Specialist (CDCES) currently working with adults and children living with diabetes in both outpatient and inpatient settings.
This concludes our list of career opportunities for those with a PhD in Criminal Justice.