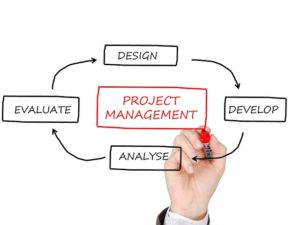 After earning a Master's in Project Management, many students wonder what some of the potential career paths are available to them. A Master's in Project Management gives students skills including leadership skills, management, skills, organizational skills, and communications skills. Project Management is a specific discipline that can be applied broadly to a variety of different industries. In Project Management, it's not necessarily the content of the project that is important but rather the understanding of how to ensure that a project gets completed under budget and in time. Here are some of the potential career paths that students can enter into.
Featured Programs
Chief Operations Officer
One of the most desirable positions for a student with a Master's in Project Management, the Chief Operations Officer is in charge of managing the entire day-to-day operations of a company. A Master's in Project Management is incredibly useful for this type of position as the Chief Operations Officer must be able to make sure that the various projects within the company are all being managed in a way that they will be completed on-time and on-budget. Chief Operations Officers must have great interpersonal skills as well as communications skills in order to make sure that the various teams and groups that make up an organization are all working towards their goals.
Marketing Manager
A Marketing Manager works to research, plan, design, and implement a companies promotional strategy in order to effectively market their product or services in order to drive sales. This job requires leadership and decision-making skills which are both skills that are commonly cultivated through the study of Project Management. The role of Marketing Manager is crucial to the function of most companies as it is the driving force behind the companies sales. By working as a Marketing Manager, you will be tasked with making sure that the entirety of a company's marketing plan is working to provide the most sales.
Project Management Consultant
Through this career path, students will work for a firm that helps other companies implement better project management techniques into their own workflow. Rather than becoming part of an organization and applying Project Management skills to a specific project, Project Management Consultants will examine the ways client companies manage their project internally and suggest ways that they can improve their processes to ensure that they are carrying out their projects in a manner that is most effective. Project Management Consultants have the benefit of working with a variety of different companies in order to maintain variety within their work.
Construction Managers
A more hands-on project management positions, Construction Managers work to oversee that a construction project is completed in a safe and timely manner while maintaining budget. Construction Managers will oversee day-to-day operation while also making sure to think across the long-term to ensure that a construction project is meeting its goals. A Master's in Project Management is very helpful for this role, and so is an understanding of construction and other construction-related topics.
By pursuing one of our top online Master's in Project Management degrees, students can ensure that they've received a high-quality education that is very flexible. These are just some potential career paths to help you get started with thinking about how you'd like to apply your degree.