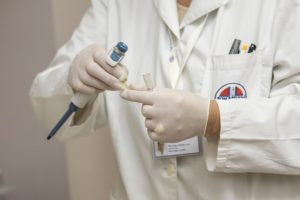 The field of public health offers a wide variety of career paths to workers.  After studying public health-related issues like epidemiology, health economic, and public health policy through a Master's in Public Health, you're now wondering what are some of the career paths available as a graduate of a Master's in Public Health program.  This degree program affords students many different career opportunities from which to choose from.  Below, we have highlighted a few different career paths that might be of interest to recent graduates.
Epidemiologist
As an epidemiologist, you will work to identify and study public health issues.  Epidemiologists study the diseases and illnesses that are effecting populations and work to identify means of transmission in order to work to prevent the spread of disease.  The median salary of an epidemiologist is approximately $64,000.
Biostatistician
Typically working at some level of government, a biostatistician studies statistics related to public health issues in order to provide data that can be used to implement public health policies.  This job requires an understanding of math and statistics in order to create usable date that can then be used to support public health policy-making. The median salary of a biostatistician is approximately $57,400.
Health Communications Specialist
Combining the study of public health issues and communications, a Health Communications Specialist works to create campaigns that communicate to the public issues regarding public health.  Whether that is information about a new disease and its means of transmission, or ways to make health daily choices to lead a healthier lifestyle, health communications specialist must break down health information in a way that can be digested by the public.  The median salary of a health communications specialist is approximately $51,000.
Nutritionist
A nutritionist works to analyze the eating habits of a patient in order to help them maintain a healthier diet.  By working closely with a patient to log what they are eating and providing them with meal plans and alternate food choices, a nutritionists job is to ensure that their patient maintains a diet that meets all their needs.   The median salary of a nutritionist is approximately $57,000.
Emergency Preparedness Specialist
As an Emergency Preparedness Specialist, your primary job role will be to educate the general public and  first responders in the appropriate protocols and behaviors for responding to an emergency scenario.  Emergency Preparedness Specialists will give lectures and provide training at a variety of different organizations in order to help prepare them for the unforeseen.  The median salary of an emergency preparedness specialist is approximately $54,000.
Health Teacher
Applying knowledge from their Master's in Public Health degree, health teachers perform the integral role of providing health education within our school system.  Health teachers will discuss important topics including mental health, sexual health, physical fitness, and other health-related topics. This role is crucial in ensuring that our next-generation of children are educated in health matters.  The median salary of a health teacher is approximately $53,000.
Whether completing a conventional or top online Master's in Public Health degree, students are able to pursue a wide variety of career paths.  These are just a few potential careers to serve as a starting-point on your pursuit of a career in public health.