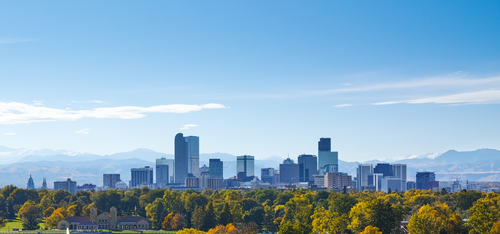 Regis University is a private Jesuit Catholic university, offering multiple degrees and programs for undergraduate and graduate studies and online programs. Regis University was founded in 1877 by a group of exiled Italian Jesuits living in New Mexico and is now located in Denver, Colorado. Regis University is a nationally-recognized, award-winning school with a clear mission in serving our communities and striving for leadership and personal development.
Featured Programs
Online Degree Programs
The College for Professional Studies (CPS) at Regis University offers many options for online degree programs. The online courses provide opportunities for students to work with their facilitators and other students worldwide. The online degree classes are presented in accelerated terms of five or eight weeks and occur at the same time as campus courses. The classes follow an organized semester schedule; however, there are many choices in when and where you study. More than 6,400 students per year enroll in online studies at Regis University.
There are online degree programs to support all of the Bachelor's, Master's and Certificate programs related to the following departments:
• School of Computer and Information Sciences
• School of Education and Counseling
• School of Humanities and Social Sciences
• School of Management
• School of Humanities and Social Sciences
Tuition and Financial Aid
Online tuition per semester for an undergraduate student is typically between $315-460. Master's programs typically cost between $465-810 per semester. Application and assessment fees are also processed.
Reduced tuition rates apply for students who are currently licensed teachers, paraprofessionals, or employed by other entities that collaborate with Regis University.
Many financing options are available, including: grants, scholarships, student loans, and benefits for active duty and veteran military personnel.
Admissions
Getting started with the admissions process is easy when you can chat online, email, or call an enrollment adviser.
Accreditation and Awards
The Higher Learning Commission has accredited the university since 1922, and Regis is a member of the North Central Association of Colleges and Schools. This accreditation includes the adult degree and accelerated program options both online and on-campus.
Regis University consistently wins a yearly honor as a top university in the West by U.S. News and World Reports. Specific to online programs, multiple departments in have won awards placing them in the top 4-25% of online bachelor's and master's degree programs. Award-winning online departments include: Teaching Practices and Student Engagement, Student Services and Technology, and Student Services and Technology in Business.
Other distinctions include, but are not limited to: Peter F. Drucker Foundation Award, GI Jobs Top Military Friendly School, U.S. President's Higher Education Community Service Honor Roll, and the Super Scholar Smart Choice.