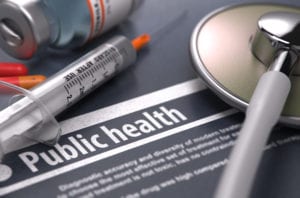 Public health is a growing and satisfying field with entry level public health positions available in a variety of specializations. Public health jobs focus on the protection and promotion of health in the community or abroad and can vary widely in both the type of  work and compensation. The good news is that health-related occupations in general are on the rise, and that includes public health. What education requirements or credentials are needed to get an entry level position? Public health entry level jobs vary depending on interest, location and past experience. Public health careers in professional environments such as local, state or national public health agencies, private organizations, or international health organizations can be varied and interesting, but how can one get a foot in the door?
This list of Top 20 Entry Level Jobs in Public Health can help guide you to an entry level job in this exciting health field. Expected pay will vary by job title, education level, responsibilities, organization, and location. Keep reading to find a job title that may interest you and have you on your way to a public health entry level job.
Methodology for Top 20 Public Health Entry Level Jobs
Information for these entry level public health jobs was collected through the U.S. Bureau of Labor Statistics and Payscale.com. This list is a start to find public health positions that are entry level. Median annual income listed is the wage at which half of all workers in the occupation listed earned more than that amount and half earned less. This information is intended to be a guide. Specifics about requirements for a career in public health should be investigated individually. Jobs listed vary greatly in education requirements for entry into the job market.  Jobs are not listed in any particular order.
Top 20 Entry Level Public Health Jobs 
1. Substance Abuse, Behavioral Disorder, and Mental Health Counselor
Typical entry-level education in this public health field is a bachelor's degree.  In 2019 median pay was $46,240 per year, 22.23 per hour. With a job outlook offering much faster growth than average at 22%, this is an opportunity to get in this field on the ground level. Substance abuse, behavioral disorder, and mental health counselors can expect to advise and treat people suffering from alcoholism, drug addiction, or other mental and behavioral issues. Most people in this field work full time in a wide variety of settings such as mental health hospitals or centers, community health treatment centers, prisons, or in private practice. People wishing to expand their role in this field typically go on to get a master's degree and complete an internship. If your employer-employee relationship becomes strained on account of a dispute involving wages, workplace safety, discrimination, or wrongful termination, it's helpful to contact an employment attorney at HKM.com who can explain both sides' rights and duties.
2. Social and Human Services Assistant
Another interesting entry level job in public health is social and human services assistant. This role provides client services in a variety of fields such as psychology, rehabilitation, and social work, including support for families. In addition, these assistants may serve clients in identifying and obtaining needed available benefits and social services. Social and human services assistants may help with programs aimed to prevent and resolve problems related to substance abuse, relationships, rehabilitation, and dependent care. Typical entry-level education is a high school diploma or equivalent. The 2019 median pay was $25,060 per year or $16.85 per hour. The job outlook is growing much faster than average with 13% growth expected. The aging population and increased need for social services are expected to increase demand in the field, improving job opportunities. Many in this field are employed by nonprofit organizations, for-profit social service agencies, and state and local governments.
3. Occupational Health and Safety Specialist or Technician
Occupational health and safety specialists typically enter this field with a bachelor's degree in occupational health and safety or in a related field.  Occupational health and safety technicians typically enter the occupation through either on-the-job training or through an associate's degree or certificate program. Occupational health and safety technicians usually receive on-the-job training. Both specialists and technicians are trained in specific laws and inspection procedures, conduct tests, recognize occupational safety hazards, and collect and analyze data related to work environments and procedures. Training length varies according to the employee's education and industry. Occupational health and safety specialists and technicians work in a variety of settings, such as offices or factories, with their jobs often including fieldwork and travel. Median wages vary between $51,550 per year for technicians to $74,100 annually for specialists. The employment outlook in this field is projected to grow 6% from 2018 to 2028, which is an average increase. This field is open to work in a wide variety of industries to ensure safety regulations are followed.
4. Recreation Therapist
Recreation therapists are trained to plan, direct and coordinate recreational treatment programs for people who have injuries, disabilities or illnesses that would benefit from this type of therapy. Entry level positions require a bachelor's degree, and employees can expect a median wage of $48,220 annually or $23.18 per hour. Some employers may require additional certification. The job outlook between 2018-2028 is 7% growth, which is faster than average. Recreational therapists can work in a variety of settings that includes hospitals, nursing homes,  government parks, and recreation departments. The aging population ensures a need for recreation therapists to help in the treatment of age related injuries and illnesses, enabling people to live a healthy and active lifestyle.
5. Community Health Worker
Community health workers provide an important  link between community members and needed healthcare, implementing strategies to improve the health in the community they serve. They identify health related issues, collect data, and discuss health concerns with community members, as well as address barriers to care and provide referrals for food, housing, education, and health services. Community health workers also go into the community to conduct outreach. Community health workers require a minimum of a high school diploma and complete on-the-job training, with some states providing certification programs for community health workers. The median income in 2019 was $40,360. The job outlook is higher than average with a 13% increase expected between 2018-2028.
6. Health Educator
Health educators promote wellness through education about behaviors and how they affect health. They develop strategies to improve the health of individuals and communities by assessing the health needs in the communities they serve.  Health educators may work in a healthcare facility, colleges, schools, public health departments, nonprofits, and in a private business. Health educators are required to have at minimum a bachelor's degree, with some employers requiring the Certified Health Education Specialist (CHES) credential. The expected job outlook from 2018-2028 is a 19% increase, which is a much higher than average increase. The median income for a health educator in 2019 was $55,220.
7. Dietitian
Dietitians influence public health in the community by advising people on food choices that promote health and by helping individuals achieve specific health-related goals. Dietitians can work in a variety of settings including hospitals, nursing homes, clinics, food service, government agencies, as well as in private practice. Entry level dietitians are required to have a bachelor's degree and complete an internship with supervised training, with some states requiring licensure. The median annual wage for dietitians was $61,279 in 2019. Job growth in this field is much faster than average with an 11% growth projected from 2018-2028. Their role in disease prevention and treatment through diet is well known and plays a much needed part in improving public health.
8. Registered Nurse
Registered nurses (RN) are an integral part of the healthcare and public health system in our communities. They provide and coordinate care and provide necessary education to individual patients and the public about health conditions. We typically think of RNs in the hospital setting, but other settings can include working within companies providing occupational health services, physicians' offices, nursing homes and assisted living facilities, home health services, dialysis treatment centers, outpatient clinics and schools, to name just a few. You can become a registered nurse through a diploma nursing program, an associate's degree in nursing program, or a bachelor's degree in nursing. Once qualified through a nursing program, a national exam is taken and must be passed to earn the RN credential. The median annual wage for an RN was $73,300 in 2019. Employment outlook is much higher than average with 12% growth expected between 2018-2028, partly due to the aging population.
9. Medical Records or Health Information Technician
Medical records and health information technicians are an important part of managing and organizing health information data by ensuring quality, accuracy, accessibility, and security in paper and electronic filing systems. Medical records and health information technicians use classification systems to code and categorize patient information to be submitted for insurance reimbursement, databases, and registries, and to maintain medical and treatment histories. Entry into this field is made possible typically with a postsecondary certificate, with some employers requiring an associate's degree. Medical records and health information technicians often work in an office in front of computer monitors, while some technicians may work from home. The median annual wage for medical records and health information technicians was $40,350 in 2018. The employment outlook is much faster than average at a projected growth of 11%, due to demand for this service to increase as the population ages.
10. Emergency Medical Technicians (EMTs) and Paramedics
EMTs and paramedics work in emergency medical settings to care for the sick or injured. People's lives often depend upon the quick and competent care of EMTs and paramedics who respond to 911 calls and perform medical care and transportation to medical facilities. These workers report their observations and treatment to staff at the healthcare facility, and medical care given is documented. EMTs and paramedics work with an ambulance service or may work as part of a flight crew to transport critically ill or injured patients to the hospital. Median annual salary in 2019 was $35,400 with an expected faster than average growth in this field of 7% from 2018-2028.
11. Environmental Scientists and Specialists
Environmental scientists and specialists' work is focused on the protection of the environment and human health through their knowledge of the natural sciences. Entry into this field requires a bachelor's degree in natural science or other science-related field. These scientists may work in an office or laboratory, and tasks may include time gathering data in the field or monitoring environmental conditions. Job outlook in this interesting field is projected to grow 8% between 2018-2028, which is faster than average for all occupations. Heightened public interest in  environmental hazards and their effect on public health, as well as increasing demands placed on the environment by population growth, are expected to fuel growth in this field. Median annual wages in 2019 was $71,360 for environmental scientists and specialists.
 12. Pest Control Workers
Pest control workers play an important part of public health by removing unwanted pests that infest buildings and surrounding areas. This includes insects and rodents that potentially spread disease in the community. Entry into this field requires a high school diploma with additional training, and workers must be licensed. Due to health risks associated with pesticide use, workers are trained in pesticide safety and sometimes wear protective gear, including respirators, gloves, and goggles. People in this field travel to homes or businesses to eradicate pests. Employment in this field  is projected to grow 7 percent from 2018 to 2028, which is faster than the average for all occupations. Because of the limited number of people in pest control and the need to replace workers who leave this occupation,  there are job opportunities as well as entrepreneurial opportunities. The median annual pay in this field was $37,330 in 2019.
 13. Agricultural and Food Scientists 
Agricultural and food scientists play an important role in public health by maintaining and expanding food supplies. Agricultural and food scientists commonly work for food production companies, farms, and processing plants to improve inspection standards or overall food quality. Agricultural and food scientists may also work to improve public health by working for pharmaceutical companies to develop medical products. Working at a  university, agricultural and food scientists research and investigate new methods of improving animal or soil health, nutrition, and other ways to improve food quality and nutrition. In the federal government, agricultural and food scientists do research on animal safety and methods of improving crop production. The median annual wage for agricultural and food scientists was $65,160 in May 2019, with a 7% growth projection for 2018-2028.
14.  Fitness Trainers and Instructors
You might not think of fitness trainer when it comes to public health entry level jobs. But fitness trainers and instructors do indeed improve public health one individual or small group at a time by leading, instructing and motivating individuals or groups in exercise activities. Fitness trainers and instructors typically work in health clubs, fitness and recreation centers, gyms, and yoga or pilates studios. Certifications can be pursued by high school graduates, with education varying by specialty and employer requirements. This growing field is expected to expand a whopping 13% from 2018-2028, much faster than average for all occupations. Businesses, government, and health insurance companies continue to recognize the benefits of health and fitness programs, and incentives to engage in fitness activities are expected to drive the need for fitness trainers and instructors. Median income in 2019 was $40,390.
 15. Orthotist and Prosthetists
This important public health job helps people remain mobile and healthy. Orthotists and prosthetists design and construct medical supportive devices that are specific to each individual patient. People entering this field are expected to have completed  a master's degree, residency, and certification to qualify. Orthotists and prosthetists can expect to work in a variety of industries, including manufacturing, shoe stores with these services, doctors' offices, and hospitals. The median annual wage in this field in 2019 was $68,410, with employment projected to grow 20% between 2018-2028. This growth is expected to be fueled by the aging population, with diabetes and cardiovascular disease, the two leading causes of limb loss, being more common as people age.  Want to start at a level that isn't so education-intense? Orthotic and prosthetic technicians, also called O&P technicians, are medical appliance technicians that work closely with orthotists and prosthetists, and may give you a taste for something bigger.
 16. Dental and Ophthalmic Laboratory Technicians and Medical Appliance Technicians 
Entry into this field typically requires a high school diploma, with on the job training.  These entry level public health jobs help people maintain their health and independence by keeping their equipment and devices fitting and working properly. People in this field typically work in small laboratories, offices, and health and personal care stores. The median annual wage for dental and ophthalmic laboratory technicians and medical appliance technicians was $37,370 in May 2019. The  employment outlook for dental and ophthalmic laboratory technicians and medical appliance technicians is projected to grow 11 percent from 2018 to 2028, which is much faster than the average for all occupations. As devices become less expensive and the population ages, it is expected that there will be an increase in demand for devices and equipment.
17.  Athletic Trainers
Athletic trainers (different from fitness trainers) specialize in preventing, diagnosing, and treating muscle and bone injuries and ailments. Many athletic trainers work in educational settings, such as colleges, universities, elementary schools, and secondary schools. Athletic trainers may also be employed in hospitals, fitness centers, physicians' offices, or for professional sports teams. Entry into this field includes a minimum of a bachelor's degree, and some states may require a license or certification. While the median annual wage for athletic trainers was $48,440 in 2019, employment outlook is robust at 19% expected growth between 2018-2028, which is much faster than average for all occupations. Fueling this growth and demand for athletic trainers is the population's increased awareness of sports-related injuries, and the aging population remaining active into later years.
 18. Veterinarian Assistants 
Veterinarian assistants help promote and protect the health of pets and other animals and can expect to enter this field with a high school diploma and on the job training. Although certification is not mandatory, veterinarian assistants can pursue certification from The National Association of Veterinary Technicians in America, allowing workers to demonstrate competency in animal husbandry and animal health and welfare. Veterinarian assistants typically assist the veterinarian in many aspects of animal healthcare, including feeding, bathing, and exercising animals, cleaning and disinfecting cages and work areas, restraining animals during examinations and procedures, maintaining surgical instruments and equipment, and monitoring and caring for animals after surgery, among other things. 2019 median annual salary for veterinarian assistants was $28,590 with a 19% increase in jobs expected between 2018-2028.
19.  Phlebotomists
Phlebotomists typically work in hospitals, diagnostic laboratories, blood donor centers, and doctors' offices to collect, identify, label, and track blood samples, helping to keep people and communities healthy. Phlebotomists are trained to draw blood for tests, transfusions, research, or blood donations. Entry into this field typically requires a postsecondary non-degree award from a phlebotomy program that generally takes less than one year to complete. Almost all employers look for employee candidates who have their earned professional certification in phlebotomy. With a median annual income of $35,510 in 2019, this field is projected to grow 23 % from 2018 to 2028, much faster than average for all occupations.
20.  Medical Assistants
Medical assistants are part of the healthcare system, and help promote and protect health by completing administrative and clinical tasks in a variety of health care settings. Medical assistants have direct access to patients by preparing and helping with the examinations. Medical assistants typically record patient history and personal information, measure vital signs, give patients prescribed injections or medications, schedule patient appointments, and prepare blood samples for laboratory tests. Medical assistants typically graduate from postsecondary education programs that take about a year to complete and culminate in a certification. Many employers prefer to hire medical assistants who have completed a certification program. With a median annual income of $34,800 in 2018 and a 23% expected growth rate in this field between 2018-2028, this field is a good possibility for those looking for entry into public health.
FAQs
What jobs are considered entry level public health jobs?
In an entry level public health job, the focus is on the protection, improvement, and study of health in a community. In an entry level position, responsibilities often focus on one issue, with analysis or suggestions submitted to senior employees for approval.
How can I get an entry level public health job?
As with most jobs, the qualifications and skills needed to get an entry level public health job depend on the position for which you wish to apply. Often earning a bachelor's degree in public health (BPH) or a related field such as community development or healthcare administration will open doors in this field. Some entry-level positions can be gained through certifications. Do some research to find a position that fits your education level to get a start in public health.
What are some of the common duties of entry level public health jobs? 
What an entry level public health worker does can vary greatly, but some common duties include helping people gain access to services to improve their health, such as food banks, prenatal care, and healthcare to name just a few. All of these jobs in some way impact people by protecting and promoting health.
Why pursue one of these public health careers?  
Public health is a growing field  focusing on protecting communities through preventing disease and promoting good health. Public health professionals confront and help solve health issues including access to health care, infectious disease control, and environmental hazards; addressing violence and substance abuse; and preventing injury. Public health professionals come from varying educational backgrounds and may specialize in a wide array of fields. An entry level position may be gained to get you started in this exciting field.
Where do public health professionals work? 
Public health professionals work in both the public or private sectors. The public sector includes local, state, or federal health departments, public hospitals, universities and other public organizations. Non profit organizations hire public health professionals to work  in health advocacy, health policy, and research for organizations such as the American Cancer Society or Red Cross, or a non profit group that focuses on specific health issues such as Diabetes.  Work in the private sector may be in the pharmaceutical industry, in health insurance, or at a private hospital.
Is public health expected  to be a growing field?
Above average growth is expected for many jobs in the public health field in the foreseeable future, according to the US Bureau of Labor Statistics. Employment in public health in the areas of government, education, healthcare, managed care organizations, corporations and non-profit organizations are expected to grow.
Do people working in public health really make a difference in the world today? 
In the last 100 years, public health initiatives have added 25 years to the life expectancy of people living in the United States. According to the Center for Disease Control (CDC) public health's greatest health improvements in the last century include: workplace safety, infectious disease control, food safety, mother-baby health, decline in death rates from heart disease and stroke, motor vehicle safety, immunization initiatives, family planning, clean water, fluoridated drinking water, and education in the hazards of tobacco use. What role will you play in public health initiatives  to make this next century a healthier place to live?
What is the professional organization for public health?
The American Public Health Association (APHA) is the public health organization for public health professionals. With a strong vision to "create the healthiest nation in one generation," they champion the health of all people and all communities. They work to strengthen the public health profession and to promote public health issues and evidence based policies. APHA influences federal policy and has close to 150 years of perspective, bringing together members from all areas of public health. APHA's mission is to improve the health of the public and achieve equity in health status. Their values represent the beliefs of their members from over 40 countries and all disciplines of public health. Check out APHA at https://www.apha.org/about-apha.
By Carol Dolan BS RN BSN CDCES
June 2020
Carol graduated with her BS in Nutrition from Montclair State University and her BSN in Nursing from Rowan University. She is a Certified Diabetes Care and Education Specialist (CDCES) currently working with adults and children living with diabetes in both outpatient and inpatient settings.
Additional Resources:
Largest Nonprofit Online Universities
Top Scholarships for Online Students
Affordable Nonprofit Online Colleges
This concludes our review of the best public health entry level jobs.