What is data science?
While the field called data science is quite a new career field, programs offering a Master of Science in data science are widely available. Professionals with a master's in data science use technology to gain useful insights through analysis of collected data. They utilize statistics, computer programing, and reasoning skills to communicate the meaning of data in a way that is meaningful. A data scientist works to solve problems using numbers and other important information.
A person with a master's in data science has the skills and knowledge needed to use data and to understand and communicate what the data means. This data assists organizations in maximizing their understanding and making actionable plans for their organization.
Data scientists are skillful analytical experts who use skills in technology and in the social sciences to develop trends and manage the data. In addition to numbers, the data scientist will use their knowledge from industry and context to unearth needed solutions to problems in the organization. In addition to structured data, a data scientist uses their skills to understand unstructured data that may include data from social media or emails that don't fit into a database.
How does one become a data scientist?
This field requires a number of skills that can be developed and learned by completing a master's in data science. That being said, it is also possible to develop needed skills and knowledge through other methods. There are undergraduate programs, online courses, lectures, and other resources that can be utilized to assemble a marketable skillset. This skillset is not one that can be learned quickly, and it takes months or years to learn what is needed. Data science is a broad field that not only requires using computer programming and statistical analysis to crunch big numbers and information, but also requires critical thinking at the expert level.
Many organizations prefer specific educational levels. Graduating from a master's in data science program can give hiring organizations confidence in your skills as an incoming employee in this field.
Is a master's degree in data science required to enter this field?
Although it is extremely helpful to those learning the skills needed to work as a data scientist, a master's in data science is not necessary to enter this field. Although it is not absolutely necessary, a well organized master's in data science gives graduates confidence in their knowledge and skillset in addition to acceptance and recognition from others, including those that hire data scientists.
Data science positions vary in the amount of education and experience companies are looking for in candidates. Graduates of an associate or bachelor's degree in a computer-related field of study often qualify for entry-level jobs, and they can advance into mid-level positions after some work experience.
Data scientists who conduct high-level, advanced problem-solving for organizations often have leadership skills and master's in data science degrees along with their work experience. A recent report from Burning Glass Technologists reveals that 39 percent of data scientists with advanced analyst responsibilities have a master's-level education or higher. Another survey from Burtch Works Executive Recruiting suggests that as high as 88 percent of data scientists have a minimum of a master's degree in data science.
The master's in data science is designed to help students develop the knowledge and skillset that recruiters are seeking in those that will join or lead their data science teams. Other degrees common in the field of data science include quantitative areas of study, including applied mathematics, statistics, computer science, engineering, operations research, and even economics.
What characteristics does someone with a master's in data science often possess?
Statistical thinking skills help data scientists to turn data into useful information. Having statistical know-how helps data scientists apply algorithms at the right time and place. Both of these are important parts of the data scientist's work.
Flexibility helps the data scientist change quickly, and the standard changes often in this field. When a data scientist doesn't have a solution they need, they have to make their own tools to find the solution.
Good communication skills are needed to report research findings and explain how information can be put into the right hands and put to good use. Information must be translated to colleagues of varying backgrounds in an understandable and useful way.
Many data scientists are both curious and creative; those soft skills help them to put complex subjects into words that anyone can understand. They ask why and how and find creative ways to answer the question. The data scientist that is curious and creative can create easy-to-understand reports with visuals that bring the data to life. The best data scientists are creative problem-solvers that will go to great lengths to find solutions to problems.
What job titles could someone with a master's in data science have?
Check out these job titles for possibilities for those with a master's in big data.
Data Scientist
A data scientist with a master's in data science takes responsibility to organize and analyze large amounts of data and process it to find information and patterns that will benefit the organization. They manage software, data delivery, and computing to assist their organization to meet their company goals. The data scientist may also be responsible for mining data, improving company systems, analysis of data, and cybersecurity. In addition to computer skills, data scientists are detail-oriented, and they have programming and communication skills. Data scientists can be found working in a variety of industries, including government, healthcare, and finance. Annual salaries vary according to experience, education, and location. According to the Bureau of Labor Statistics, the median salary for a data scientist in May 2020 was $98,230.
Database Administrator and Architect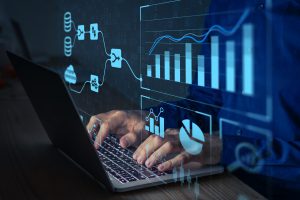 Database administrators and architects create and organize systems to store and secure data, and they improve the performance and functionality of alreading existing systems. Database administrators and architects may work for companies that provide computer design services, or they may be employed in industries that have large databases that need to be maintained and organized. Database administrators and architects may work in healthcare systems, insurance companies, or educational systems, among other places. Annual salaries for database administrators and architects will vary according to location, experience, and education level. According to the Bureau of Labor Statistics, the median salary for a database administrator and architect in May 2020 was $98,860. Job growth for database administrators and architects is expected to grow eight percent from 2020 to 2030, which is about as fast as the average expected growth for all occupations combined.
Data Engineer
A master's in data science can lead to a career as a data engineer. Data engineers work to create, test, and manage data infrastructure and tools; monitor and evaluate data infrastructure; develop data retention policies; and perform batch processing or real-time processing on gathered and stored data. Data engineers build and maintain the data organization system within an organization, ensuring information is accessible to those that need it, such as data scientists. A data engineer may work for a variety of employers, such as a tech company, retail companies, entertainment, and others. As a data engineer, the median income is around $112,000, according to Glassdoor, with wages varying according to location, education, and experience in this field.
Management Analyst
Management analysts work to improve a company's efficiency and profitability through reducing costs and increasing revenues. Sometimes called management consultants, most management analysts work as contracted consultants. Management analysts use data to make recommendations to solve organizational problems, develop alternative policies and practices, and recommend new systems, among other things. Management analysts may specialize in a certain area, such as inventory control, corporate reorganization for efficiency, or healthcare. Management analysts are hired to develop strategies to keep companies competitive or help them to enter a new market. The national median wage for management analysts is 87,660 per year. With a projected job outlook of 14% (faster than average), this is a growing field.
Business Intelligence (BI) Developer
Business intelligence developers are tasked with designing and developing strategies to help business users quickly find needed information to make improved business decisions. These data-savvy experts use business intelligence tools, and they develop business analytic applications to help business users more easily find the information they need. Business intelligence developers may work for financial institutions, tech companies, and consulting and reporting companies. In addition, they prepare and deliver presentations on organizational data, trends, and future directions. According to Glassdoor, the median income for a business intelligence developer is $86,000.
Statistician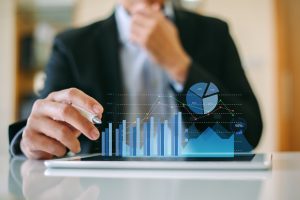 Statisticians work to collect, analyze, and interpret data to identify trends and relationships within an organization. The statistician's information can then be used to benefit the organization by aiding in organizational decision-making. The daily responsibilities of a statistician often include designing data collection processes, communicating findings, and advising leaders on organizational strategy. Statisticians may work on teams with engineers, scientists, and other types of specialists. According to the Bureau of Labor Statistics, this field is growing rapidly, with a growth of 33 percent projected from 2020 to 2030, which is much faster than the average for all occupations combined. The median annual wage for statisticians was $92,270 in May 2020. Statisticians may work for a variety of organizations, including government offices, consulting and reporting companies, market research organizations, and research institutes.
Financial Analyst Manager
You can find financial analyst managers gathering data regarding revenue, profits, and investments. This data is interpreted and communicated with team members and other stakeholders to provide direction in making data-based financial investment decisions, maintaining budgets, and maximizing organizational profits. Financial analyst managers use data to evaluate investment opportunities for the purpose of generating a profit. According to the Bureau of Labor Statistics, financial analyst managers earn a median income of $83,660 per year. Employment as a financial analyst manager is expected to grow six percent from 2020 to 2030, which is about the same as the average for all occupations.
Data Analyst
Data Analysts not only analyze data, but they are also responsible for communicating effectively between departments, and possibly managing a team. This position requires making data-driven decisions that impact an organization. Understanding and carrying out data analysis and effectively sharing findings and reports with non-technical audiences in a way that helps them to understand trends and insights obtained from data analysis is an important part of the job. The data analyst may test and evaluate new sources of data and data-collection methods. A data analyst may work in a variety of companies, including finance companies, manufacturing, utilities, telecommunications, and other large organizations. According to Glassdoor, the median annual income for a data analyst is $72,000.
Machine Learning Engineer
The role of a machine learning engineer is to design, build, and test self-running and self-learning software. They may work with a data science team to aid in efficiency. The machine learning engineer works to make sure the code is scalable and easily maintained and debugged. They are involved in researching approaches to data and algorithms to be used in adaptive systems, including supervised, unsupervised, and deep learning techniques. Machine learning scientists may also go by titles such as research scientist or research engineer. Machine learning engineers with a master's in data science may work for large organizations like Amazon, Apple, Microsoft, and others. According to Glassdoor, the average yearly salary for a machine learning engineer is $131,001.
Database Administrator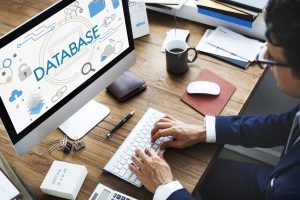 Database administrators, also called DBA's, install, configure, and monitor database systems to store and secure a variety of data, such as financial information and customer shipping records. The database administrator makes sure that authorized users have access to the needed data. The DBA collaborates with cybersecurity professionals to ensure data security and protection from loss, ensures databases are efficient and makes modifications as needed, and maintains and updates the databases. Employment is also found in social media companies, research institutes, law firms, and financial and medical institutions. Database administrators make a median salary of $98,860, as of May 2020. According to the Bureau of Labor Statistics, the job outlook shows an average growth of eight percent from 2020 to 2030.
By Carol Dolan BS RN BSN CDCES
November 2021
Carol graduated with her BS in Nutrition from Montclair State University and her BSN in Nursing from Rowan University. She is a Certified Diabetes Care and Education Specialist (CDCES) currently working with adults and children living with diabetes in both outpatient and inpatient settings.
Related:
This concludes our article on what you can do with a master's in data science.