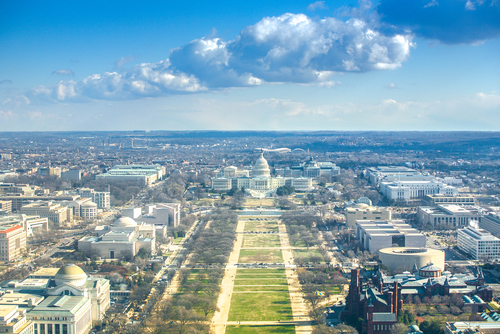 Georgetown University was founded in 1789 by John Carroll, who was the first Catholic bishop in the United States. Today, the institution enjoys a reputation as the country's oldest Catholic and Jesuit university. Georgetown University is named after the Washington, D.C. neighborhood where its main campus is located, and it is notable for its buildings done in the Romanesque architectural style. It is also known for its Hoyas basketball team, which won the NCAA championship in 1984. Georgetown has a Capitol Hill-based law center, as well as three auxiliary campuses in the Middle East and Europe.
Featured Programs
Georgetown University has more than 3,600 administrative and faculty staff, as well as around 17,000 students. In addition to the law center — named the Georgetown University Law Center — the university has seven schools. They are Georgetown College, McDonough School of Business, Walsh School of Foreign Service, Graduate School of Arts and Sciences, School of Medicine, School of Continuing Studies and School of Nursing & Health Studies.
In the spring of 2011, Georgetown started offering the choice of taking its graduate nursing program online — at least partly. With the Master of Science in Nursing (MSN) Online Program, students can now take care of the didactic portion from the comfort of their homes with a computer and Internet access. The clinical portion of the program, however, would have to be completed in or close to the students' places of residence. MSN students can specialize in nurse education, acute care, family nursing or nurse midwifery. Some programs in the School of Continuing Studies, such as the Master of Professional Studies in Journalism, offer some online courses.
Georgetown University is perennially ranked as one of the top 25 institutions of higher learning in the country by the U.S. News & World Report. Additionally, Georgetown is known as a highly selective school. According to the Fiske Guide to Colleges, only Stanford University and a few Ivy League schools are harder than Georgetown in terms of gaining admission.