Being an online student likely means you'll probably be studying anywhere but on campus–wherever you can, when you can. This means lots of distractions, especially at home, so having some handy study aids of the software kind can be a great help in the learning process. We've compiled a list of 15 study apps that are most useful for online students. Of course, there are a lot of great (and not so great) apps suitable for students, and a lot of lists like this one to guide your selection. This list focuses on relatively new study apps that run at least on the Apple iOS mobile platform (iPhone, iPod Touch, and iPad), and possibly on Android devices and/or in Web browsers.
NOTE: Most of the apps to help you study that are listed here were free at time of writing, except where stated, but are subject to change.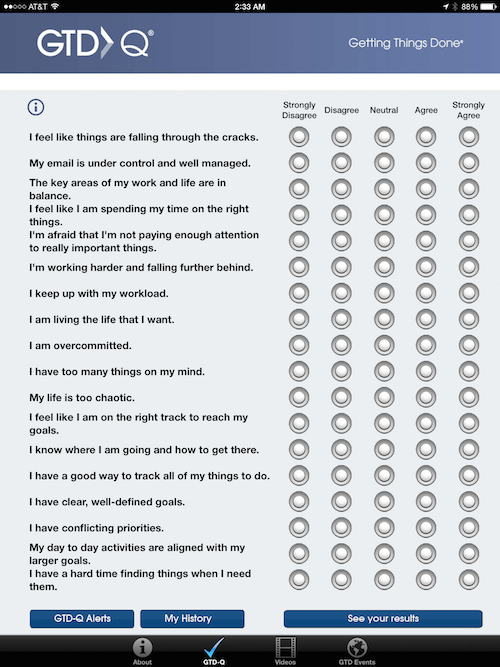 Procrastination is a productivity killer, and discipline is particularly import to online students, who may be studying at home, where there are potentially distractions and obligations. If you find yourself persistently procrastinating or otherwise not completing study tasks and the Unstuck app (#14) does not do it for you, it might be time to pull out heavyweight help: an app and methodology with which to complete tasks. GTD-Q applies David Allen's "Getting Things Done" concept to help you find the discipline to plan, start and complete tasks. The free GTD-Q iOS app works on both iPhone and iPad.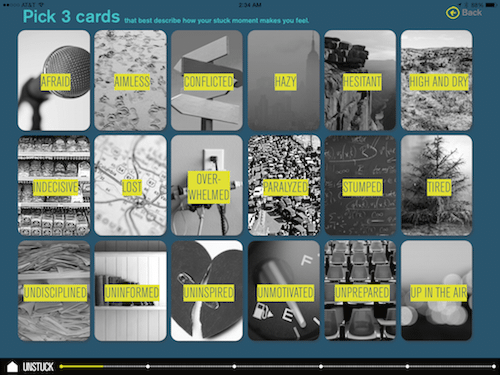 As mentioned above, discipline is key to the success of online students. While having a flexible schedule may make it feel as if online study is easier, the opposite is true. As online students are often people who have other obligations, it's quite possible to get caught between what you want to be doing and what you should be doing, causing you to waste time or experience a mental block. When you're having a learning block, the Unstuck app can help you out of it.
The app lets you explore how you are currently feeling, then choose some option cards to decide how to get out of whatever state of mind you are in – be it conflicted, indecisive, overwhelmed, stumped, unmotivated or one of the several other choices. While this is not a study app per se, it's valuable in that if you are procrastinating about studying, it's probably because you are "stuck" about something, from which the app can help you escape. Unstuck is available for Web, Android and iOS, with the latter having different versions for iPhone and iPad. Details on the site.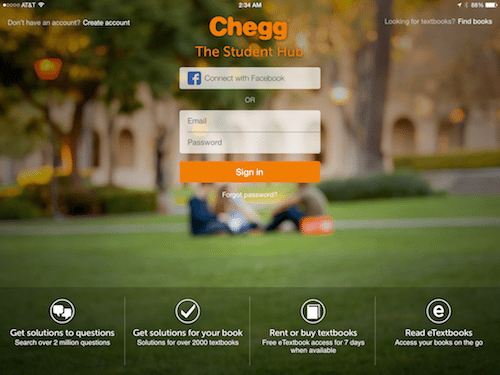 Online students are more likely than not to have study materials available online. However, that does not entirely eliminate the need for physical textbooks. If you need them and cannot or do not want to make a trip to campus, the Chegg app might be for you. Chegg ships printed books, and while you wait for arrival, you can use their mobile app. It provides eTextbooks, free weekly guided solutions (from over 2.5M paid solutions available), and free digital access to books for seven days while physical book ships. The Chegg app is available for both iOS (iPhone and iPad) and Android. Of course, when you're done with your books, sell them with the free Cash4Books iPhone app.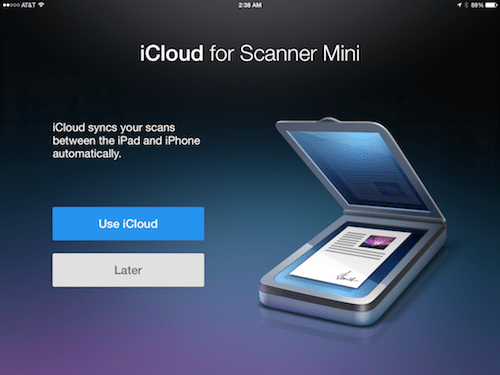 Even online students occasionally have need to scan documents, whether a few pages of a magazine or a book, a classmate's handwritten notes or what have you. Going to campus is probably something you do very rarely, let alone get to the college library, only to find a long line for the photocopier. Avoid wasting your valuable study time by using Scanner Pro, which Apple featured at the start of 2014 as an "App of the Week." Or maybe you bought a printed book or two using the Chegg app (#13) and want to scan in some text into a PDF to annotate, or scan handwritten notes for later transcription. (Of course, when scanning books, you're only making copies for entertainment purposes, not copyright infringement purposes, right?) The Scanner Pro iOS app is $2.99, while the Scanner Mini app is free and can be upgraded to Scanner Pro. Both apps allow you to scan printed matter into PDF files, and share via email, Dropbox, Evernote (#1), and Google Drive, as well as fax and AirPrint. Enable the WiFi Access in either app to allow another computer on the same network to access scanned documents via a Web browser.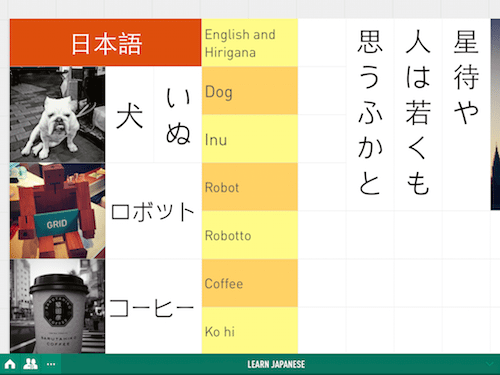 Grid by Binary Thumb changes the cloud-based spreadsheet game by ditching the formulas and allowing you to add not just text and numeric values but images as well — and from a mobile device. You can organize your content in whatever layout suits you best. Grid is great for prototyping a term paper that has visual elements, structuring your study tasks, or organizing personal events. Pull in your contacts and also collaborate with colleagues. The included sample layouts will get you started. The Grid iOS app runs on both iPhone and iPad.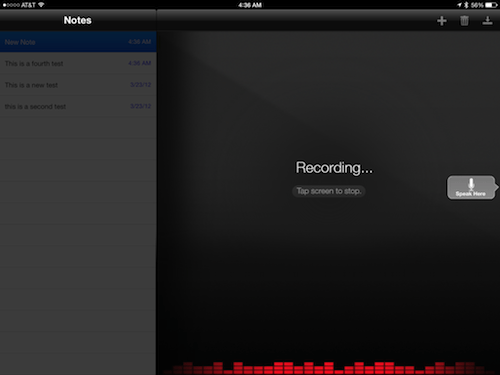 Need to take some notes for a course but don't have too many hands free? Voice recognition software Dragon Dictation has been around for several years, but the mobile apps from Nuance are relatively new. Since being an online student might mean juggling other responsibilities (such as a family, a job, etc.), time is often at a premium. Dragon Dictation not only saves you time by allowing you to recite your notes, but you could potentially do other small tasks simultaneously, if you're at home, while dictating (preparing lunch, washing dishes, putting stuff away, doing the laundry, folding clothes, etc.). The Dragon Dictation iOS app runs on both iPhone and iPad.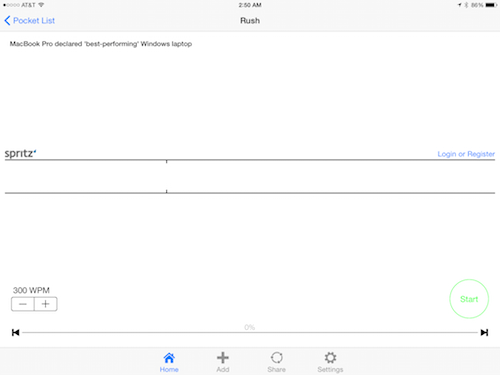 Got a lot of reading to do? Being an online student doesn't mean you get away from reading, so of course you probably have lots to read. You're just more likely to have to read online — something that some people find harder than reading print. Concentrating on text displayed on a vertical screen can also give you neck cramps, which can result in eye strain and fatigue. Spritz helps you to learn to read digital text faster — so if you don't absorb everything the first time, a second read of study material isn't such a big outlay of time.
Options for using Spritz include a browser bookmarklet and iOS, Android and Windows mobile applications. The mobile apps are actually from third parties, and should say "Powered by Spritz." Some Web sites also integrate Spritz technology. See the Get Spritz! Web page for examples. The screen snap above is from the free Rush Reader iOS app (iPhone and iPad), which lets you type in an URL and read the Web page. Rush Reader lets you connect to your Pocket account and read saved content faster.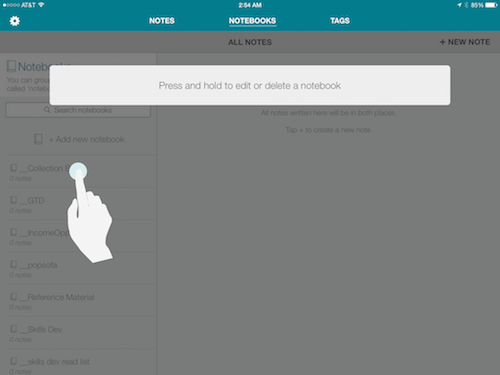 Note by Swiftkey lets you take notes and add them to your Evernote (#1) notebooks. The app can learn your writing style from Facebook and Gmail accounts, and sync the learning across devices. Perfect for when you need to take some casual notes at odd notes or more detailed notes during study sessions. Want take notes faster? Pair Note up with Swiftkey's iOS 8 keyboard extension to get the rapid typing features it's known for on the Android mobile device platform. The Note iOS app runs on both iPhone and iPad.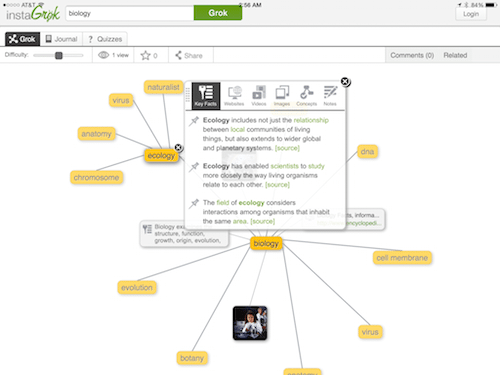 Need more organization than an app like Todoist (#2) provides? The instaGrok app might be what you need, with its concept maps and educational "(re)search engine". Organize research notes into concept maps (similar to mind maps), save key facts, videos, journals and more. The word "grok" was coined by science fiction novelist Robert Heinlein in the 1960s and essentially means "to understand." The essence of the instaGrok app is that it is an "educational search engine" that takes your entered keyword or phrase and produces a concept map (similar to a mind map) of related concepts. The app also generates a tabbed dialog box of key facts, Web sites, videos, images, and related concepts. You can listen or view available media and add your own notes. The instaGrok app is available for both iOS (iPhone and iPad) and Android. It's a free app, however there is a classroom plan for Teachers at $45/year and a 90-day free trial.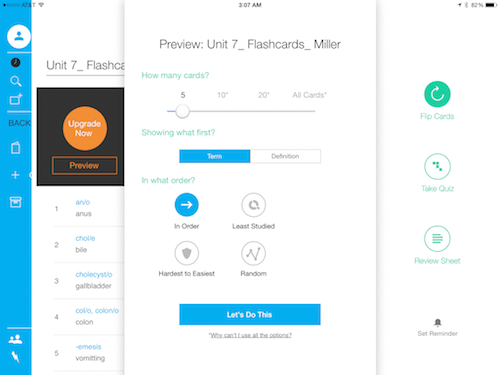 StudyBlue is one of the more popular study platforms. The app allows you to make your own flashcard sets and invite friends to view them, or share them on the platform, as well as download sets made by other users (some sets for purchase). Notes from the Evernote app (#1) can be imported into StudyBlue and turned into flashcards. Sign in with Google+ or Facebook, or register with an email address. The platform is available on the Web (main site), iOS (iPhone and iPad) and Android. Teacher features also available.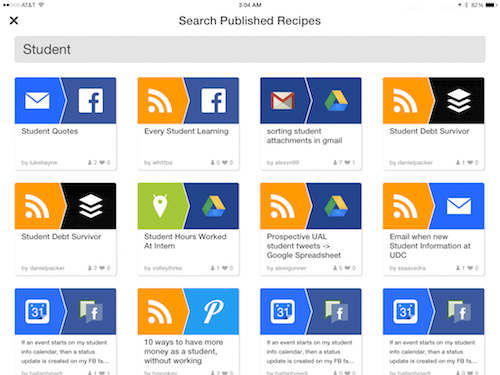 IFTTT is brilliant in concept: chain a bunch of Web services together in a pipeline of digital info and have each "recipe" notify you (text message, email) or post on social media on your behalf (Twitter, Facebook, etc.) or save files to cloud storage (e.g., Dropbox, Box, Google Drive, etc.). There are loads of "channels" (Web services) that you can activate and then chain together into a recipe. Or browse the recipes others have published and add the ones you like to your own filter list.
Use the mobile app in tandem with the Web app, or either one as available. Your recipes are stored in the Cloud, so you can access them from anywhere with an Internet connection. For example, set up a recipe to get an alert whenever a professor posts content to, say, GitHub.com, using IFTTT and TrackIf. Or use IFTTT for reminders to yourself, for assignments, tests, or personal to-do lists. There are literally thousands of possible digital recipes (search online for IFTTT recipe lists). IFTTT is available for iOS (iPhone and iPad), Android and Web.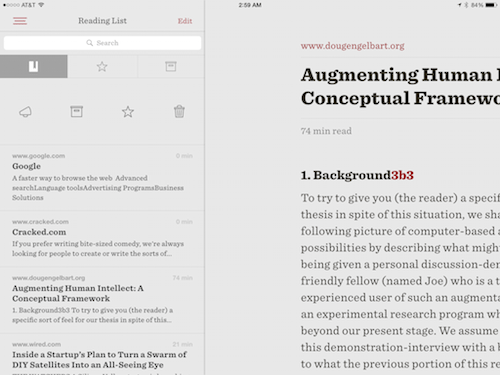 Have a lot of online reading to do? Use the Readability Web browser plugin to save URLs "for later" while you're researching and don't want to be distracted. Then when you're in a comfy chair, pull out your tablet and use the Readability mobile app for reading the pages you have saved. On all platforms, Readabilty strips out all the distracting bits of a Web page and formats the main text in a more readable font type and size, with lines spaced out more legibly. One use of just the browser plugin and you will wonder how you ever read Web pages with horrible type without it. Reduce eyestrain and fatigue with the set of Readability apps and browser plugins, and speed up your reading. The Readability mobile apps are available for iOS (iPhone and iPad) and Android. See the main site for browser plugins.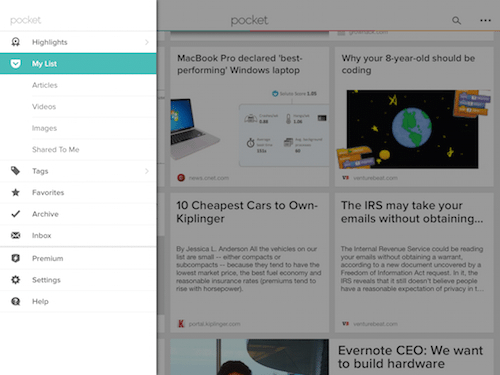 Pocket is another in the class of "save it for later" apps that help you make short work of long online reading lists. Save Web content (regular Web pages and PDFs), tag and favorite items, or share with others via email, Twitter, Facebook, Buffer, etc. Use one of the content filters to see just articles, videos or images. You can also save content for offline viewing. The Pocket app, which won a Webby Award for Best Productivity App 2014, is available for iOS (iPhone and iPad), Android and Kobo, and the Web app runs in all Web browsers. Browser plugins also available. Want to read even faster? Check out the trio of GSense/ Bobinades apps, Litz, Mocha and Punctuate, all of which use the Punctuate guided reading method. Some or all of the apps can help you reach reading speeds up to 1500 WPM (words per minute) and can sync with your Pocket account, pull in PDFs, non-DRM ePub digital books and more. The display method is similar to that of Spritz (#9), but overlays a small window over the original content, giving you the choice of reading one word at a time or a set of words at a time emphasized with a moving red underline. The Litz and Punctuate apps also gives you access to over 10,000 free ebooks.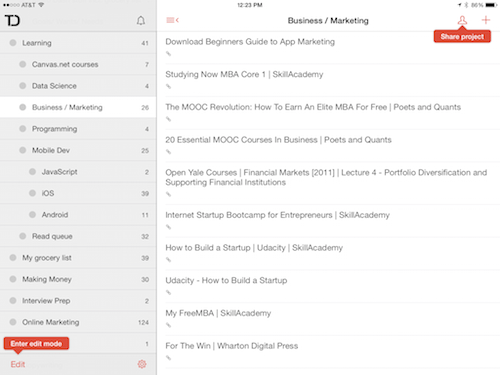 There are tons of to-do apps available but Todoist one of the more versatile of the bunch. As it also functions as a bookmarker for Web sites, it doubles as a great research tool. Even better, if you're studying with a classmate, you can share tasks or entire projects. Use it also as a reminder for assignments.
Todoist's free versions run on most computers and many smartphone and tablet platforms (including iOS and Android), and has plugins for a number of browsers. Tasks can be organized in four levels of projects and tasks, dragged and dropped between levels, and sport labels and recurring dates.
The free versions alone can increase your productivity, but word is that the premium versions allow for even greater productivity. For premium mode ($29/year), there are over 15 platforms in total, plus you get notes, file attachments (PDF, spreadsheets, images), mobile and email reminders, location alerts, extra projects and tasks, custom filtering, more color coding (projects and labels), project templates, calendar sync, productivity tracking, automated backups and more. Premium mode of Todoist allows for files to be imported from Dropbox and Google Drive. Desktop versions of Todoist also allow for file import from your computer. Tasks marked with a label (starts with an "@" symbol) can be used to trigger IFTTT (#5) recipe that forwards information to another app — such as evernote. Alternatives to Todoist are Any.Do and Wunderlist, which have overlapping features.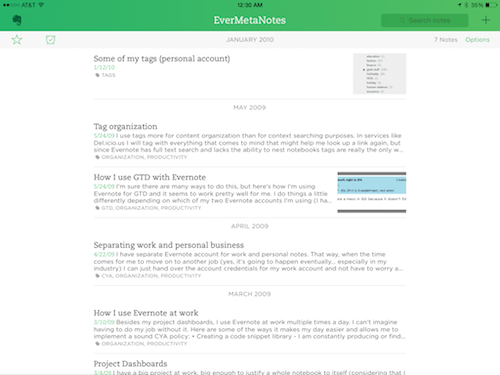 Evernote offers a suite of excellent free productivity apps that include Evernote, Penultimate, Evernote Peek, Clearly and several more. This is a group of tools that are ideal for students and researching, as well as for practically anyone.
Use the Clearly browser plugin similarly to the Readability (#4) browser plugins to read with a more eye-friendly font, or highlight passages on a Web page and have the clips automatically saved to Evernote, the flagship app. The Evernote app itself is far more than a to-do list app — it's one of the best note-taking, work and life-planning/ to-do list apps available, and quite possibly one of the most highly Venture Capital-funded in its category. Use the Penultimate app to handwrite notes with a stylus and make them searchable. When it's time to study, use Evernote Peek to focus on one question at a time from your own quizzes in a manner similar to flashcards. (Note: Evernote announced on Jan 20/15 that support for Peek would end on Feb 7/15.)
Evernote is available for multiple platforms, including Mac, Windows, Windows Phone, Web, iOS (iPhone and iPad), Android and others. It is an extremely versatile platform and can be integrated with multiple other apps, including several listed here, which increases your potential productivity even further. There are also premium features and business mode features – the latter including collaboration and chat.