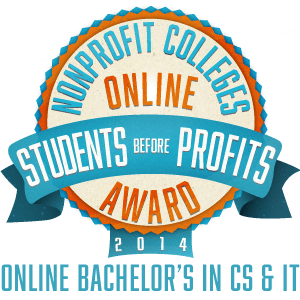 Our Students Before Profits Award was created to promote nonprofit colleges and universities offering online degree programs that put students before profits and education before the bottom line.
For our 2014 Online Bachelor's in Computer Science and Information Technology award winners we selected online programs from regionally accredited, nonprofit colleges and universities with objectively lower than average tuition cost ($49,546) and a higher than average six-year graduation rate among schools offering the degree. This is a very strict standard which only a handful of programs and schools were able to meet this year.
While our ranking is based primarily on affordability, accreditation and nonprofit status, we believe the programs receiving this award deserve to be considered among the top online bachelor's programs in CS & IT available. Prospective online student can rest assured that these programs offer the very best in economic value and commitment to student success.
One of the largest private institutions of higher learning in Nebraska, Bellevue University is a private non-profit university established in 1966 and based in Bellevue. Bellevue University has always functioned as an institution best suited for providing adult education and educational outreach. As of 2014, Bellevue University accommodates over 10,000 students, and it runs the Lozier Professional Center in west Omaha.
Online Bachelor's in CS/IT Program Overview
Bellevue University offers an online Bachelor of Science in Information Technology degree. The core program consists of 48 credits, 12 of which are comprise the elective courses. The IT courses that students of the program take cover duties and subject areas like network management and infrastructure, cloud computing, managing Windows operating systems and servers, and maintaining security infrastructures. In addition to the core and elective courses, students are required to take 36 credits worth of general education classes.
Accreditation
Bellevue University is regionally accredited by The Higher Learning Commission of the North Central Association of Colleges and Schools (NCACS).
Graduation Rate: 37%
Tuition: $46,990
Established in 1851 in the city of Tallahassee, Florida State University is one of the premier public research universities in the southeast. The main campus covers nearly 500 acres and the Southwest Campus covers nearly 850 acres. Florida State University offers nationally recognized studies in engineering, medicine, law, computer science and other degrees.
Online Bachelor's in CS/IT Program Overview
Florida State University offers both an online BA and and online BS in Computer Science. The programs follow the same curriculum, and are the same degrees, as the ones earned by on-campus students. The programs are designed for students seeking to pursue a career as computer professionals and take a systems approach to computing, emphasizing the interdependence of design, object orientation, and distributed systems and networks, from basic software through systems design. The programs can be completed in 2-4 years, depending on prior work and course load.
Accreditation
Florida State University is regionally accredited by the Southern Association of Colleges and Schools. The online BS in Computer Science is accredited by the Computer Accreditation Commission of the Accreditation Board for Engineering and Technology.
Graduation Rate: 73.8%
Program Tuition: $42,971/$50,806
Liberty University is a private Christian university founded in 1971 by the Reverend Jerry Falwell. The small campus in Lynchburg, Virginia enrolls about 12,000 students annually, but its online school serves an additional 90,000 students, making Liberty the largest evangelical school in the world.
Online Bachelor's in CS/IT Program Overview
Offered through Liberty's award winning online campus, the online Bachelor of Science in Business Management Information Systems (BS) prepares students to work in information technology fields. Students take courses in data networking, web development, application development, and gaming technologies among others. Graduates of this program will be prepared to work in fields such as software development, network management, data analysis, and gaming design/development.
Accreditation
Liberty University is accredited by the Southern Association of Colleges and Schools Commission on Colleges (SACSCOC). The online Information Systems program is administered through the Liberty University School of Business, which is accredited by the Accreditation Council for Business Schools and Programs (ACBSP).
Graduation Rate: 46.7%
Program Tuition: $47,600
Old Dominion University (ODU) was established in 1930 as a public research university in Norfolk, Virginia. The school currently enrolls about 24,000 students through on-campus and distance-learning programs. Old Dominion University offers more than 70 degree programs via satellite, online, video streaming, and CD-ROMs. The university is a national leader in distance learning and according to the 2009-2010 Distant Learning Student Satisfaction Survey, 92% of students would recommend the ODU distance learning program to a friend.
Online Bachelor's in CS/IT Program Overview
Old Dominion University offers an online bachelor's degree in Computer Science. The Computer Science program requires 120 credit hours for completion and is scientifically and mathematically intensive. Students will explore the theoretical basis of computer science with a strong emphasis on laboratory experiments.
Accreditation
Old Dominion is regionally accredited by the Southern Association of Colleges and Schools, Commission on Colleges.
Graduation Rate: 50%
Program Tution: $34,200
Oregon Institute of Technology (OIT) is part of the prestigious Oregon University System, and is the only technology institute in the Pacific Northwest. The university enrolls almost 4000 students spread across two campuses, three satellite sites, and online programs. OIT's online degree program offers flexibility and convenience for nontraditional students. OIT was listed in Forbes 2012 Best Colleges, and U.S. News and World Report's Best Colleges of 2013 awards.
Online Bachelor's in CS/IT Program Overview
The online Information Technology Program at OIT offers specialization in Applications Development, Business and Systems Analysis, or Health Informatics. The program is open to both freshman, and IT professional looking for continuing education. This Bachelor of Science program will give students the fundamental skills necessary to pursue careers in all aspects of Information Technology. OIT is committed to helping students to succeed in a wide-range of industry applications as Information Technology professionals.
Accreditation
The Information Technology program is accredited by the International Assembly for Collegiate Business Education.
Graduation Rate: 49%
Program Tuition: $28,080
University of Illinois at Springfield (UIS) is a public university established in 1969 as Sangamon State University, and then in 1995 it became part of the University of Illinois system. The school began offering online courses in 1999 and is located in Springfield, Illinois, serving about 5,000 students. In 2007, UIS was recognized with the Sloan Consortium award for Excellence in Institution-Wide Online Teaching and Learning.
Online Bachelor's in CS/IT Program Overview
University of Illinois at Springfield offers a B.S. with a concentration in Computer Science online. This program will help students become familiar with the computer science field by giving them a strong base of skills and computer science theory in order to help them be prepared for the constantly changing technology in today's world.
Accreditation
University of Illinois at Springfield is accredited by the Higher Learning Commission of the North Central Association of Colleges and Schools.
Graduation Rate: 60.9%
Program Tuition: $48,756
Founded in 1895 as Lowell Normal School, University of Massachusetts-Lowell has increased significantly in its educational offerings. As a leading higher educational provider, more than 17,000 students are actively pursuing degrees offered by the university. Although diverse in degree offerings, University of Massachusetts-Lowell is well known for its computer science degree programs.
Online Bachelor's in CS/IT Program Overview
Students who want to obtain UMass-Lowell's Bachelor of Science degree in Information Technology online must complete 120 credits and maintain a grade point average of 2.5. Some of the courses for this program include computing, computer organization, programming languages, and computer architecture. Additional prerequisite courses are also required for graduation. If interested, students may also complete minor studies in bioinformatics or robotics.
Accreditation
University of Massachusetts-Lowell is accredited by the New England Association of Schools and Colleges.
Graduation Rate: 50%
Program Tuition: $43,440